- Posted on Fri, 12/19/2014 - 20:29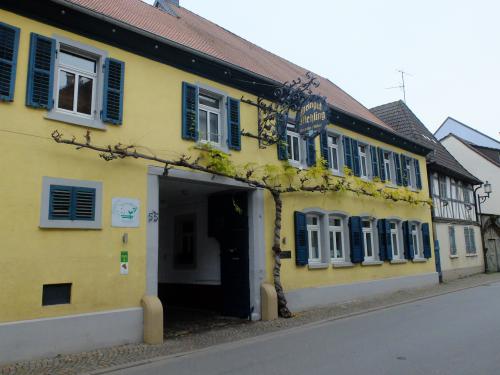 Author: Malkhaz Kharbedia
During the second half of November, a study tour of over ten participants has been held under the program of Private Sector Development in the South Caucasus implemented by the German Society for International Cooperation, LTD (GIZ). The training tour incorporated different visits to a number of wine producing regions of Germany as well as various business and enogastronomic meetings. The participants of our group included: Tamar Imedadze (National Wine Agency - tasting panel), Rusudan Machitidze (National Tourism Administration), Tama Garanidze (Kakheti Wine Guild), Levan Mekhuzla (National Wine Agency), Tata Jaiani (Georgian Wine Association), David Rakviashvili (Georgian Hospitality Group), Maia Tsereteli (Key Management Solution), Nata Kvatchantiradze (Georgian Tourism Association), Rusudan Chartolani (Professional College "Ikarosi"), Shalva Khetsuriani (the President of the Georgian Sommelier Association), Iohem Teis (GIZ) and Dariko Gogol (GIZ).
The study tour was focused on two main areas – wine and tourism. We were able to meet different leaders and representatives of various German institutions: German Wine and Sommelier School of Koblenz, DEHOGA (German Hotel and restaurant Association), Agricultural Service Center of Neustadt, Four Seasons (Vier Jahreszeiten) Co-op, the most successful wine cooperative of the Pfalz region and Extraprima Wine Merchant that sells premium wines. These are state, non-government and private organizations, where we had really productive meetings. In addition to this, we visited about ten wine cellars and tasted dozens of wines that were made following various winemaking methods and techniques. Every evening we would have unforgettable celebrations of food and wine pairing that were hosted and organized by Martin Darting, a wine expert and enthusiast, and enjoy the fun dinners that offered extraordinary pairing of wine and German gastronomy.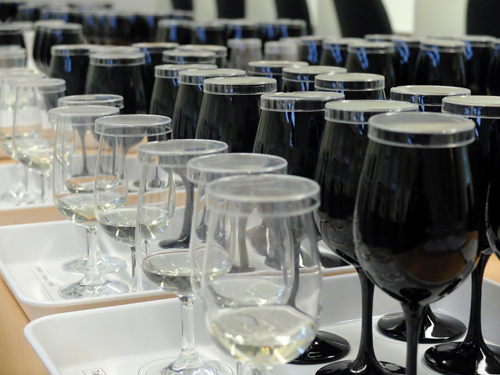 My diary is a record of these days, events, the issues that were discussed, and of course, of food and wine experience. In a nutshell, it deals with everything that has brought together knowledge and hedonism, education and the pursuit of pleasure.
Each day was scheduled orderly and efficiently, of course, as one would expect from Germans, starting from 8 a.m. to 11 p.m. There were also late comings and spontaneous changes in the program. I even got lost several times. Indeed, the main plan remained the same.
Right from the Frankfurt airport, we headed straight to Deidesheim, a wonderful and highly prestigious vine-growing village of Pfalz, where we had a quick stop at the Heninger Guesthouse and shortly after that we went to the Agricultural Service Center of Neustadt, which is a wine producing town near Deidesheim. This great institute of viticulture and winemaking does a wonderful job of delivering a dual education that combines both – theory and practice. The students are expected to do almost every kind of job starting from the experience of working in the vineyards to the final step of storing a wine bottle on a shelve. After completing their course, the students emerge as well-trained professionals who know a lot about viticulture, enology, business administration and even marketing, and what's most important, they are the ones who have participated in numerous winemaking procedures themselves.
As we arrived at the place, we were received by the director of the center who gave us an introductory speech and also by Alfred Fisher and Georg Binder. We started our tour by visiting laboratories. The first time I got lost here, between one of the labs and a tasting hall. I found myself behind my group, as I was busy observing things and taking pictures. It turned out to be quite difficult to find my way out of the Neustadt wine campus labyrinth. Luckily, I was helped by one of the local employees, whom I call Virgilius (unfortunately, I don't remember his name). As we were trying to find my group, he had to open the doors of every auditorium on our way. During that time, I was able to take a look at every corner of the campus, to see working students, some of them in cellars, some - in labs, and some - scattered all around the campus. It took us a while before we finally found the group. As we were informed, our hosts' presentations were about to take place in the building located next to the main campus because the latter was under renovation. In the end, I was quite pleased because I happened to walk through the labyrinth of the whole campus and to get the experience of exploring it in just 15-20 minutes.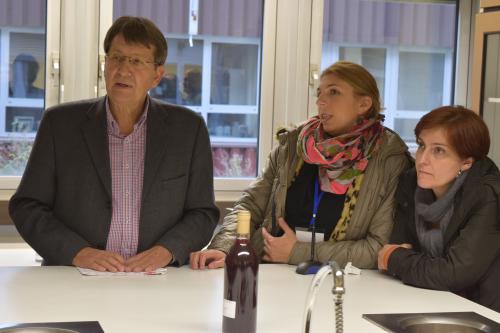 The meeting opened with the presentation of Alfred Fisher – "The Professional School of Winemaking and horticulture." Mr. Fisher is the head of educational affairs in the Agricultural Service Center of Rheinpfalz. During his comprehensive presentation, he talked in detail about the main priorities of the school. Actually, the motto of the school is – "Let your head, heart and hands learn." As we have learned, it is a three-year program that focuses on practical training and involves a complex and comprehensive education on viticulture and winemaking.
Following the presentation, Georg Binder gave a speech about a very important topic – "Wine education in Germany and Georgia." This scientist is already well-known in Georgia as he has been working on implementing the European standards of wine education here for years. We will provide you with his interview in the near future. As of now, it is worth mentioning that during his lecture he not only shared German experience of teaching, but also discussed the issues regarding the industrial education in Georgia. Again, the main focus of the speech was the importance of the dual education system, which would include only one-third of the theoretical learning and two-thirds of practical, on-the-job learning in wine cellars.
It was especially pleasing to come across several Georgian students at the Weincampus. One of the students, Vano Shiukashvili, finished his program in 2010 and started to work at Kindzmarauli Corporation. His wines have been sold for four years already. In fact, he has participated in making some of the German wines as well, some of which will be described below. Bera Kobaidze is another Weincampus student who works at the Weinbiet Vintners' Cooperative (Winzergenossenschaft Weinbiet). I have also met Lasha Bibilashvili, a student from Dzegvi, Georgia, many times during this visit. He is interested in planting indigenous white grape varieties in his home village. Obviously, Neustadt wine school is a great opportunity for those Georgians, who are interested in the field. It would be really great if the number of Georgian students involved in the school increases.
The final part of the meeting was an extensive wine tasting. We were able to taste over ten wines from Pfalz that were made by Neustadt professors and students:
Mussbacher Johannitergarten Riesling Kabinett Trocken, 2012
It is a delicate dry style Riesling with 12% of alcohol that offers a wide spectrum of sweet, fruity and floral aromas, also wild rose and grapefruit notes. €6.20.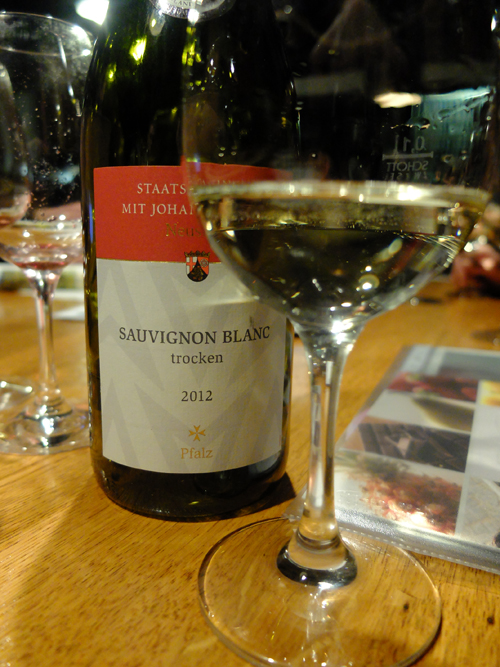 Sauvignon Blanc Trocken, 2012
We have tasted the Sauvignon Blanc from Pfalz region that was showing white peach, gooseberry, fig milk, passionfruit and green tones. Despite its unripe notes this wine was pretty impressive, had an original style and distinctive character. Alcohol: 12%. €15.
Haardter Herrenleten Rieslaner Spätlese, 2011
Rieslaner wine, a blend made from Riesling and Silvaner grapes. Spätlese meaning late harvest wine. It had less pronounced aromas than Riesling. It was a quite closed and complex varietal featuring lemon, waffle and white cherry jam with a touch of petrol (which is typical for aged Riesling). Rieslaner is found only in Pfalz and Rheinhessen. Alcohol: 9%. €6.
Haardter Herrenleten Muskateller Spätlese, 2011
This late harvest ("Spätlese") Muskateller is less known in our country. The wine showed quite sharp tones and characteristics of Muskat grapes. It was gold in color, which is pretty typical for sweet wines. Alcohol: 9.5%. Dominant aroma: rose petal jam. On the palate: Sage, bergamot and other herbal tones. €7.90.
Mussbacher Eselshaut Huxelrebe Auslese, 2007
Another varietal unfamiliar to the Georgian palate – Huxelrebe, which was the result of a crossing of Chasselas and Courtillier Musqué (Muscat Précoce de Saumur) in 1927. The grape is found only in Pfalz and Rheinhessen regions. This sweet gold-colored wine had a dense weight and 9.5% of alcohol. Oxidized aromas were expressed slightly in the wine along with a funky note. This Auslese ("selected harvest") wine also offered raisin and floral tones. €10.
Ruppertsberger Linsenbusch Riesling Eiswein, 2012
Finally it was time for the 2012 vintage ice wine that had 9% of alcohol and opened up with cooked quince and white cherry jam notes. It was a very delicate, sweet and full-bodied wine expressing tropical fruit aromas. Just a reminder: Ruppertsberger is the name of the village and Linsenbusch – the name of the vineyard.
Dornfelder Trocken, 2012
Quite simple and delicious wine with the pronounced aroma of sour cherry. Transparent and bright purple-colored that can be paired with a variety of dishes. Alcohol: 13%. €5.50.
Spätburgunder Kalkmergel 2011
"Kalkmergel" means "marl," which refers to the type of a soil where Spätburgunder is grown. Both – the color and the aroma of the wine showed its age very well. This was a quite light and delicate red wine. €14. Just a reminder: Spätburgunder is the German name for Pinot Noir.
Cabernet Sauvignon Trocken, 2009
This was the Cabernet Sauvignon from Pfalz with the typical characters on the nose and on the palate that made it easy to identify this varietal: pronounced notes of paprika and hot pepper. Quite vibrant and weighty wine but also very elegant. The color showed the wine had been aged. €16.
An enogastronomic celebration was still ahead at the "Zur Herberge" barrelhouse. I've called it barrelhouse to make it sound more familiar to Georgians. In fact, such place is called "Weinstube" in Germany. These wine cellars are in almost every corner of Germany's wine producing regions.
Home-made and simple Riesling wine was served as an aperitiv. It was fresh and highly acidic – Riesling trocken, Weingut Klosterhof Schwedhelm, 2013.
The first dish was hot-smoked trout and green salad, fresh and crispy with horse-radish sauce. Meanwhile, the second bottle of Riesling was on its way to be served (Gleisweiler Hölle Riesling Kabinett trocken, Weingut Theo Minges 2012). This pairing of smoky flavors with the high acidity had a quite unexpected effect. This match was not simply harmonious, but also intriguing and fascinating. Biodynamic Riesling (Pflüger, Dürkheimer Riesling trocken 2012) came next, the wine from the Bad Durkheim terroir that had more of an expressive and distinctive, rather than classic character. Unlike the previous wine, which was quite typical, we happened to talk about this last Riesling more and enjoyed quaffing it even more.
Then it was time for the huge portions of meat dishes. One of them was Saumagen (pork stomach filled with shoulder meat and potatoes that was seasoned with savory, marjoram and oregano), also roasted sausages from Pfalz, liver quenelles, blood sausages (Blutwurst) and Sauerkraut – cooked and shredded cabbage salted and fermented in its own juice and vinegar. The wine that came with it was quite intense as well. Spätburgunder, for example, would not handle the intensity of these dishes. Therefore, the hosts decided to serve the wines made from Bordeaux grapes along with these quite heavy meals: Merlot – Cabernet Sauvignon, Weingut Bergdolt, 2011, a strong red wine from Pfalz.
Finally, it was time for a dessert. Here, apple took the lead, which is one of the most essential products in Germany. Roasted apple with roasted almonds and a caramel ice-cream was served with the Muskateller wine – Gelber Muskateller Bischofskreuz, Weingut Karl Pfaffmann, 2013). This semi-dry wine didn't seem to have the same amount of sweetness. Indeed, the wine and apple acidities created an ideal match.
We arrived at the hotel at 12 a.m. Next plan was to get up at 8 o'clock in the morning and head to the Mosel wine region, where many more interesting experiences were awaiting us.
Translated by Tea Kokhreidze
© Georgian Wine Club/vinoge.com
Tagged: