- Posted on Thu, 12/12/2013 - 01:15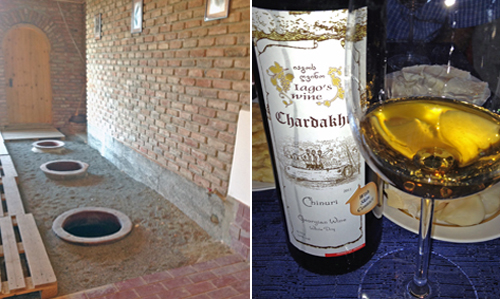 by
Kathy and Terry Sullivan
Iago's Wine is a small boutique winery producing qvevri wines using grapes from Iago's organic vineyards. He also produces Chacha. Iago's winery is a pleasant, family winery to visit. Iago exports his wines.
Iago is a winery owner and winemaker. He produces only qvevri wines. Iago is passionate about producing quality wines using qvevri. Currently he produces 2,500 bottles. Some of his qvevri are 300 years old. Iago follows in the tradition of generations of family winemakers. Iago became a commercial winery in 2003.
Iago has two hectares of certified organic vineyards planted with Chinuri. He was the first winery in Georgia to receive a bio-certificate for the vineyard and winemaking.
His winemaking practices include using natural yeast. Fermentation takes two to three weeks. During fermentation the wine cap is punched down three or four times a day. Iago demonstrated how he punches down a cap that forms on the top of a qvevri. Using a worn tree branch works well to punch through the thick cap.
After fermentation the wine is racked to another qvevri with a pump. The top of the qvevri i is sealed with clay. The wines are aged for several months.
When asked when and why he started making wine, Iago commented, that he never started making wine, "I continue." His grandparents and parents made wine and even as a child he helped make wine.
Qvevri Marani
Iago's qvevri are housed in a separate brick lined building, a marani. He has diagrams available to show visitors the process of making qvevri wines. Iago demonstrated how a dried gourd attached to a long wood handle is used to taste the wine from a qvevri. Iago noted that he cleans his qvevri with a brush and a tool with white cherry bark on the end, used for scrubbing the sides of a qvevri.
Iago's Wine
After viewing the qvevri, we relaxed outside his home on a small patio where we enjoyed tasting Iago's wines with Georgian cuisine.
Iago's Wine
Chinuri 2011 was made in qvevri. The wine was a dark gold with a floral aroma and floral on the taste. The finish offered mild tannins and floral nuances. Kisi 2011, also made in qvevri, had floral notes and tannins were noted on the finish.
Chacha
Iago's Chacha, made from Chinuri grapes, was clear with notes of alcohol. The Chacha was smooth with heat on the finish and a long aftertaste of dried fruit.
While tasting Iago's wines and Chacha, Iago provided a traditional Georgian dinner consisting of khinkali, a meat filled type of dumpling, mother's bread, different cheeses, meat dish and a tomato and cucumber salad. Our guide Tamta, demonstrated how khinkali should be eaten. The dumpling is filled with meat and juice. The trick is to hold the khinkali with two hands and nibble at one side, suck out the juice and eat the filling. Tamta told us that some people can eat a dozen khinkali before eating the other foods.
Iago exports his wines to Italy, France, the United Kingdom and the United States.
Wine travelers who wish to visit Iago's should contact Iago for an appointment.
Iago's Wine
Chardakhi, Kartli, Georgia
© winetrailtraveler.com
Tagged: