- Posted on Thu, 10/02/2014 - 16:42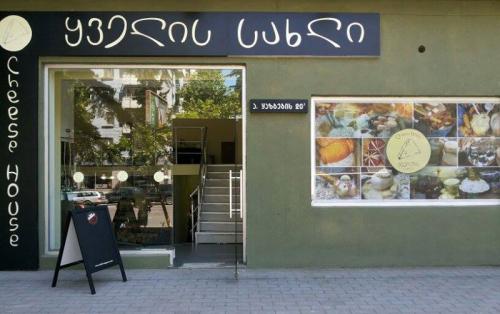 by Nana Kobaidze
Ana Mikadze-Chikvaidze is a well-known persona among cheese lovers. As she says, she is "haunted" by Georgian cheese and puts a lot of effort into promoting it. She travels from village to village throughout Georgia in search for unique types of cheese and cheese masters to collect information and introduce their creations to the entire country.
Her creation – the Cheese Fest – serves exactly the same purpose, which is promoting and introducing cheese to people and it is already admired by cheese lovers. Three months ago, she opened a Cheese House in Tbilisi, where customers are offered about 53 types of products. This is the place where you can buy and at the same time, taste your favorite cheese.
During our interview, held in the Cheese House, I came to find out many interesting things that I would like to share.
Cheese is a very sensitive, delicate product. Hands, eyes, heart and soul – they all are the creators of cheese. A person of bad energy cannot make a good cheese. Cheese is a living creature, like a child: it is born, growing and developing . . . We say "Amokvana" in Georgian, the root of the word denoting the act of "deriving." It is derived from whey. Whey is the mother of cheese. Cheese is composed of protein casein containing the hormone of happiness, which pretty much explains smiling faces of cheese sellers. There's even famous Georgian expression: "laughing like a cheese seller". Her knowledge has come with experience and research step by step. However, there was a time when cheese had no leading part in her life.
It all came suddenly. Several years ago, while she was pursuing a philologist career, she met ethnographer Tamila Tsagareishvili, who completely changed her goals and plans. She was the one that introduced her to the rich past of Georgian cheese.
"At the time I was working on a project dealing with cheese issues; and I curiously asked her: Isn't it strange that such an old country doesn't have more than four types of cheese?" to which she replied: "We did have many types of cheese, but it is tough-to-work-on issue and I don't recommend to deal with it. There are plenty of materials, which has not been researched at all," she added.
She got enthusiastic about it. She did a research, found an author of the book written on this topic and visited him the same evening. She read the book all night long and in the morning, she already knew that the project on "Georgian Cheese" was about to be fulfulled.
I was especially fascinated by the cheese names: Motali, Shora, Tenili, Dambalkhacho, Kalti, Iakin Kalti, Chogi . . . All of these have been produced by our ancestors for centuries. Fortunately, traditions are still kept, even though there has been the period of stagnation, when the diversity of the Georgian cheese was vanished from the sight of the Georgian customers. It was in the era of Soviet Union, during which there was a war on individualism and that included food products as well.
"Such diversity of cheese would complicate price regulation for soviet officials. For example, you cannot find Chogi that is sold for a low price – it is "family cheese" and is made in small quantities. Thus, the "supervisors" of this field solved the problem easily: they reduced the number of options and left only four types of cheese available on the market: Only two of them Imeruli and Sulguni were registered and one additional type was created – so-called Karkhnuli (factory made) cheese. People who lived in that period also might remember "Bryndza", which was Greek Feta analogue."
Thus, the current situation is a logical consequence of those 70 years of Soviet era– 90% of the Georgian consumers buy only Imeruli and Sulguni Cheese. Considering this context, the first Cheese Fest in 2010 was a real cultural shock for everyone.
Cheese Fest
The idea of creating the Cheese Fest came later. But before that, she searched for people making authentic types of cheese and she always found them. Some people thought she was crazy, some were joking about it and others just looked at it skeptically. Indeed, she stubbornly kept her way, traveled around the regions in search for the cheese makers. At some point, she realized that the "materials" she collected were sufficient for the "Cheese Fest" and submitted her project to the Ministry of Economy. After a year and a half, they contacted her and offered her to carry out her project within the framework of 33rd Wine Congress. It happened in 2010 in Signagi. She began to prepare for the first fest by visiting several regions and meet the cheese producers. However, on the day of the fest, not a single person showed up in "Bebris Bagi". She found herself destressed sitting in a garden. All of a sudden, several busses started to gather at the entrance of the garden. It appeared that a lot of people brought a wide range of interesting samples. It was magical to see so much variety of cheese spread around the garden, especially after Sulguni and Imeruli being the only types, to which people were exposed at the time. There was a cheese aged in wine, Meskhetian Tenili –cheese threads in a clay pot, Goat cheese stuffed in vine leaves, Megrelian Guda, Crusted cheese of Tsalka, Chogi, Kalti both, raw and dry. To cut it short, the festival was a success and she realized it wouldn't be right to stop there, as she says. Thus, she continued doing her work.
Soon after the Fest, Tabula magazine organized the Cheese Show at Tsinandali, which happened to be highly acclaimed. She was offered to open a large cheese store by the circle of the businessmen. However, she knew that she was not ready yet for such a big move. Instead, she opened a small cheese shop at Nutsubidze Street. After two years, she left the shop and began to bring new ideas to life.
Step by step to business
Cheese house was opened three months ago, with the support of various partners. Despite the fact that cheese is usually sold in her shop, she doesn't regard it as a business. As she says, there lays long way to business. This is just a show room, mini-exhibition of the Georgian Cheese, where people can taste about 53 varieties of cheese, starting from authentic, rare Georgian styles to those made using European technology.
She has suppliers who have their own farm – the precondition, which is mandatory for becoming her client. She knows the details, starting from the names of the cows to their nutrition and health condition. Currently, she is partnered with 6 farms. "Cheeses presented in the Cheese House are made of milk from the cows and goats I've personally seen in their farms many times and I always feel bad when they are about to be slaughtered. If I were rich, I would buy all of them and take care of them until their natural death". At this point, this remains to be her unfulfilled dream. As to the reality, she promises to make many surprises for her customers. Being artistic by nature, she loves celebrations, so she's decided to arrange small parties for the shop visitors as well. Tuesday is going to be a Cheese Day – they will put the tables outside, block the street and offer the pairs of cheese and wine, cheese and beer, as well as cheesecakes to the passersby.
The first party will be dedicated to beer, since the winter approaches and this beverage is less popular in winter, so they will say farewell to beer that will be paired with smoked cheese and welcome wine.
Teletian Stories
Recently, she has began one more interesting activity, she is building Cheese factory-museum in Teleti. This will be a mixed farming of European standards and completely Georgian production. She will make cheese following old traditions, though she will also provide pasteurization and install condenser, etc. "I plan to bring back all forgotten cheese varieties. And I need to buy milk in the corresponding regions. I'm building a large cellar, where I will age cheeses as it described in historical sources and observe the development of each type in certain conditions." This will be small enterprise of a European standard with only 100 cows in total. "The concept of Georgian farm is not correct - it is not focused on milk productivity. Certainly, our farm will have the temperature control and will have perfect conditions. Urine and manure will be separated. We will use urine as bio-humus and manure to make special pads, on which the cows will lie and feel happy. Most importantly, we will have many types of cheese and an exhibition featuring old cheese and milk making tools and equipment. The visitors will receive full impression and knowledge about cheese production, its equipment and technological processes. We will also provide master classes and workshops. This is my dream and hope it will come true."
Gift to the world
"Georgian Cheese deserves to be introduced to the world, because we have a lot to offer. There is a 80 centuries-old cheese vessel preserved inNational Museum. Mtskheta Museum has another 28 centuries-old cheese ware. Cheese history counts 4,000 years in the world, and we have cheese ware of 6,000 years old. We can proudly declare that we are the oldest country in cheese production. Now, the government should step in along with a group of scientists and do a research to decide what kind of cheese, curd or other diary product was in this oldest vessel."
The government has already taken some steps in this regard, when 14 types of cheese were registered, including two different types of Chechili cheese: Acharain Chechili and Chechili. However, this is not sufficient. Now we need to promote our findings, provide proper branding and introduce it to the world. We have a real potential, recently UNESCO included Tenili Cheese (stuffed cheese) in the Intangible Cultural Heritage list. Dambalkhacho may be next.
"Last year, despite some opposition, I intentionally gave the festival a long name "Georgian Cheese Millennia and its European Future." The "European family," towards which we are striving, has a surprisingly wide variety of cheeses. Still, we have the potential to take our deserved place with our oldest boutique cheeses and authentic flavors. This is what can make us fascinating. There are two ways to survive and to enter our European family: to invest in education and agriculture and cheese is not a simple and easy subject of agriculture."
Revived Past
Despite the fact that a lot of Georgian cheese varieties have been revived in recent years, she thinks that this is only a start.
As to Achara and Lazeti, we have separate heritage there. "Recently, I've found the cheese in Achara, I have been looking for a long time. I knew it as Moshushuli and found it as Shushvela. This is a type of cheese, which is left in warm conditions after deriving from milk. It is wrapped in cabbage leaves for a while, which later becomes pinkish, develops mould and is aged for one year and a half. It is very similar to the Parmesan taste and is made by Acharians living in Shuakhevi and Adigeni."
Kamamber and Brie cheese type Acharian cheese with white mould is also very interesting; cheese has the consistency and form of Imeruli cheese, but it is aged like Kakamber and Brie. She found these types of cheese by chance in Acharian host family. Locals call this cheese Dampali (meaning "rotten") and are deeply in love with it. This means that, all types of cheese that were being derived by the rest of the world during centuries, had been created earlier in Georgia. They include moldy, cream, dry, hard and stinky cheese. This is our heritage and it should be widely presented.
"There are many caves in non-museum part of Uplistsikhe, showing signs of cheese presence. It seems that goats were having rest in these places, people received milk and made cheese as well. There are caves in Racha as well; The signs of cheese production also can be found some places of Samegrelo, where sheep and goats were raised; Since lambs didn't need so much milk, shepherds most likely made cheese. Where would he keep the cheese? (there was no salt in mountains), a shepherd would keep the cheese on the shelf, where cheese would get mouldy and age brilliantly. If there is cave-made Roquefort, why shouldn't we look for mouldy cheese in our caves and keep our history?"
Wine and Cheese
Wine and cheese - one more interesting topic. "We are the country of Qvevri and Amphora Cheese. We kept cheese and wine in clay. They were born together. Most important thing is to position wine and cheese together like a "sweet couple." Cheese and Wine wedding" - a symbolic performance held in 2010, in Anaklia, was based exactly on this concept. The event was held in collaboration with Teliani Velley company. A cheese had the image of a bride, while wine was "dressed" in Chokha - Georgian national attire. "From now on they will live together in perfect love and harmony."
Recently, she presented this concept with the Minister of Agriculture and asked him to select the most authentic and oldest types of cheese and promote. Later, the officials from the Ministry of Foreign Affairs contacted her and asked her to select several types of cheese for promotion, which would be paired with wines and sent to different Embassies. Looks like a start. Hopefully, we will continue in the same way.
In addition to this, Ana Mikadze - Chikvaidze actively partners with the "Wine Club," together they have held many wine and cheese related events, paired different types of cheese and wine and discussed the future of them.
From Georgian to Caucasian Festival
In October, next Cheese Fest will be held in Tbilisi, featuring the products of winner manufacturers from various regions of Georgia. The regional festival will be held in spring, in Georgia. "We would like to expand our festival and hold the Caucasian Cheese Fest, where we will showcase the cheeses from Azerbaijan, Armenia, Ossetia, Abkhazia and North Caucasia. I really want to hold this festival in Tbilisi, because Tbilisi has always been the heart of Caucasia and I think the festival will bring this traditional old function of the city back again.
© vinoge.com
Tagged: