- Posted on Fri, 05/30/2014 - 22:51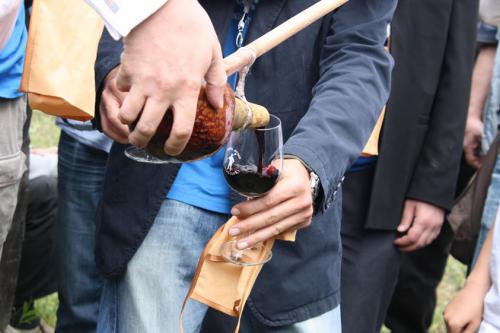 Levan Sepiskveradze
New Wine Festival is the event where one can feel the spirit of the Georgian wine at its best. The wine lovers gather at the Tbilisi Open Air Museum of Ethnography and taste the wines from various regions of Georgia once a year in May.
The festival will be held for the fifth time this year on May 24 where traditionally, large winemaking companies as well as boutique cellars and small family-owned wineries will participate.
As always, New Wine Festival has been supported by the National Wine Agency and Tbilisi City Hall. "Wine for All and All for Wine!" - this has been the motto of the festival all these years.
As it is known to the loyal visitors of the event, wines are selected through the degustation performed by a tasting panel of the Wine Club members and wine experts two months prior to the festival and almost every winemaker can participate in the event as long as their wines are not faulty.
About 40 to 50 boutique or family cellars and 30 wine companies participate in the festival almost every year and the visitors have the opportunity to taste the wines free of charge as well as they are provided with the booklets and brochures depicting the wine cellars and the wine companies.
Since the festival is returning for its fifth year this May, many aspects of the event have been changed in a progressive way. Georgian artisan wine makers have significantly improved the quality of their wines and large companies have also become skilled in the area of promotion and marketing. New Wine Festival is the wine celebration day and it also delivers benefits from the economic standpoint. Many negociants come to sample wines at the event, thus, it generates potential sales growth of those wines as well.
During these five years, many unknown winemakers have become famous. Different natural and artisan wines are now being sold in many European countries. Wine Festival is the place where the wine lovers, winemakers and generally, those who are interested in wine gather and meet each other every year. Wine Club is the host and the main organizer of the festival.
There are not many wine events held in Georgia, we have only three wine-related events: New Wine Festival, Tbilisoba with Wine Club and WineExpo. As Wine Club members have noted, more and more people are visiting New Wine Festival each year and they find it very important. For example, there were about 15,000 visitors at the Tbilisi Open Air Museum of Ethnography last year and this number has increased significantly this year.
The festival is similar to many well-known European wine events in a way that there is a large diversity of wines presented. There are samples from almost all wine producing regions of Georgia. Many qvevri wines from different regions have been acclaimed during the last year's festival.
There were many interesting and innovative approaches found as well in terms of wine making. For example, last year's "innovation" was a dry Megrelian Ojaleshi made in the Targameuli village of Martvili Region. Top wines that stood out at the 2012 New Wine Festival were: Qisi Qvevri wine from the Tchikaani village of Kakheti region, Otskhanuri Sapere from Imereti region and Saperavi wines from Outer Kakheti (Gare Kakheti). We certainly are expecting more exceptional wines to taste this year.
However, the natural disasters that took place last year and the year before in Kakheti had negatve effects on the local winemaking. For this reason, the wines from Telavi and Gurjaani regions were not broadly showcased during the previous year's festival. This year has been unsuccessful for Imeretian wines. It has been apparent for the members of the tasting panel that have tested the wines submitted to the festival that the wines from Kartli Region stood out the most. Thus according to the wine experts, 2013 vintage has been an exceptional year for Kartli region.
Previous festivals showed that winemaking has revived in Kvemo Kartli region. Winemakers from Bolnisi, Manglisi and Marneuli presented interesting and unusual examples of Mtsvane, Saperavi and Rkatsiteli varietals. According to David Chichua, one of the tasting panel members and wine expert, Kvemo Kartli wines showed totally new spirit.
Shota Mgeliashvili, 46, who is one of the loyal guests of the festival, has expressed his excitement about the improved quality of artisan wines in Georgia: "5-10 years ago, it was almost impossible to drink an artisan wine. They not only added sugar to wine, but they also didn't know how to preserve it. I've been attending the festival every year and I feel very happy that the winemakers have learned how to take care of their wines. I can even compare some of the artisan wines I've tasted to the wines of famous brands. I want to give thanks to all those winemakers and of course, to the Wine Club that supports these people and shows them the way to the market!"
Women have made important strides worldwide in terms of creating complex wines that connoisseurs love, so their wines are sold successfully in many countries including Italy, USA, France, Spain, etc. They also have received significant awards and prizes. Georgian women are following this trend of female winemaking as they are presenting their wines at the New Wine Festival.
Qvevri opening ceremony is the culmination of the event in which the Wine Club members and the guests are welcome to participate. Last year it was the wine blend of Rkatsiteli and Mtsvane varietals made by the winemaker, Merab Mirtskhulava, from Vazisubani village of Kakheti region, that was ladled from the qvevri, buried in the yard of Tbilisi Open Air Museum of Ethnography. In 2012, it was the Kisi wine made by the winemaker, Koba Kvachrelishvili from Tchikaani village of Kakheti region. This year, the qvevri opening ceremony will be presenting a wine blend of Chinuri and Mstvane varietals made by Gogi Dvalishvili, the winemaker from Kartli region.
Merab Mirtskhulava, a winemaker from Tbilisi, who has beeen encouraged by the success of the previous festivals, has brought his five different wines this year. He makes his wine in Okami village of Kartli region and inVazisubani village of Kakheti region.
Merab Mirtskhulava: "It's been my third year of participation in the festival. Two years ago only one of my wines was found to be successful among the festival wines. This year I'm presenting five different wines. Some of them are qvevri wines and some of them are made in barrels and noncorrosive metalwares. I'm very pleased that a lot of young people attend the festival, I have great hope in youth and believe that young generation will respect and love Georgian wine. Georgian wine should be acclaimed and admired in the local market first and then we may start thinking about foreign markets as well."
New Wine Festival shows clearly advantages and disadvantages of Georgian winemaking. The wine experts and lovers agree that the quality of Georgian wine slowly approaches the European standards. Indeed, European standards doesn't necessarily mean European wine style. Moreover, Georgian qvevri wine becomes more and more popular in Europe and it's important that Georgian winemakers learn how to make quality wines and promote them in different markets.
The fifth, 2014 New Wine Festival will definitely show current trends of Georgian winemaking. Without a doubt, such events are delivering the opportunity to develop and improve the wine culture in the country.
© Georgian Wine Club/vinoge.com
Tagged: