- Posted on Sun, 11/02/2014 - 12:40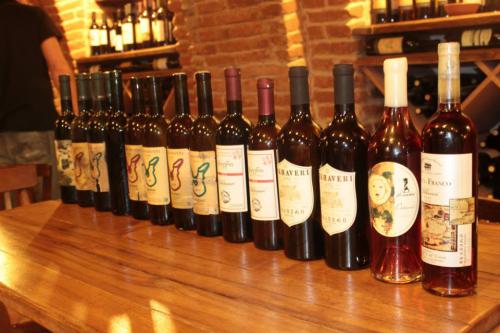 Chkhaveri tasting at Wine Club
by Levan Sepiskveradze
Chkhaveri is described as light and pleasant wine in "Ampelography of Georgia" - a book issued in 1960, being one of the most valuable books in Georgian winemaking. Nowadays, wine professionals and winemakers fairly think that such interpretation is not sufficient and Chkkaveri varietal needs further observation and research.
Thus, in the beginning of September, Wine Club members hosted a tasting event of all styles of Chkhaveri wine that exists on Georgian market. The closed-door event was held at Vino Underground wine bar "Wine in Underground" featuring the following wine professionals and enthusiasts:
Zurab Topuridze - One of the famous Chkhaveri winemakers, Director of Iberieli wine company, Wine Club member.
Malkhaz Kharbedia - Wine Club President, Writer.
Giorgi Samanishvili - Oenologist
Misha Meskhi - Oenologist
Levan Kitia - Wine enthusiast, Wine Club member
Giorgi Barisashvili - Wine expert
Iago Bitarishvili – Owner of Iago Wine company, wine expert
Ramaz Nikoladze - Owner of Nikoladze wine cellar, winemaker
Marina Kurtanidze - Owner of MANDILI wine company.
Chkhaveri wines made in three regions of Georgia - Guria, Imereti and Achara, were presented at the event. Some samples were made based on the natural winemaking principles and some of them were so called conventional wines. The aim of the tasting was to verify and differentiate the types of Chkhaveri wines and to take closer look ar them in general.
Four types of Chkhaveri wines of different vintages were presented from the prominent terroir of Chokhatauri (Bukistsikhe - Sakvavistke - Erketi). Zurab Topuridze was one of the winemakers and the organizers of the tasting event. There were also two different styles of Chkhaveri wines - white and Rosé, presented by Kakhetian Traditional Winemaking company. Other participant included small wine cellar of Gaioz Sofromadze and a winemaker from Vani, Imereti, who presented two different samples of wine - Chkaveri Rosé. Chkaveri Rosé wines were presented by Lukasi and Acharian Wine House companies as well.
Unfortunately, a number of Chkhaveri wines were not presented at the tasting. The main reason for this is the fact that some Chkhaveri wines are hard to find in chain stores. One of the superb wines, not featured at the event, was the Chkhaveri wine made by Luka Bibineishvili from Khelvachauri region. Luka Bibineishvili, who owns vineyards in the village of Khelvachauri region, Achara, makes an excellent wine and is actively involved in promoting this varietal in the region.
1. First sample was Chkhaveri 2013, made by Iberieli without Chacha from 100% Chkhaveri grapes. Grapes were harvested in the villages of Chokhatauri Region: Sakvavistke, Bukistsikhe and Erketi. Vineyards are cultivated following the natural winemaking rules. Semi-dry wine is made with spontaneous fermentation, without using pure yeast and the grapes were harvested on November 20.
As participants have concluded, wine colour is golden - straw colour gradient. Flavors of freshly waxed Churi (western Georgian Qvevri) have been present in the wine, which may be considered as a flaw. Chkhaveri aromas were well expressed, however, overripe white plum was the most dominant of all aromas. Wine has a harmonic balance of sweetness and acidity.
2. Next sample was Chkhaveri wine 2012 by Iberieli, the qvevri wine from the same terroir made by using the same winemaking techniques. At first, wine seemed a bit faulty, however, it soon transformed into the aroma of unripe apple, which was followed by other ripe fruit layers of aroma. Some participants even noticed a quince aroma. It is also worth noting that acidity was not well expressed in this wine and colour was quite pale as well. The finish of this wine was more long-lasting than that of the first wine.
3. The third sample was Chkhaveri 2011 presented by Iberieli company. As it was explained by the winemaker, this particular vintage was quite unsuccessful, with instable weather conditions and low yields. Wine is natural, made with spontaneous fermentation. As Misha Meskhi said, wine shows minor intensiveness, though it keeps some "secrets" as well. Wine is refined and has golden colour.
As Malkhaz Kharbedia says, the more Chkhaveri wine is aged, the more complex it becomes. Aging makes it very difficult to identify the aromas of this wine, which means, it becomes mysterious, so to speak. Giorgi Samanishvili admitted that the wine has a great potential of aging. As to the body of these wines, the first two samples were more full-bodied. Giorgi Barisashvili noted that even though the wine is old enough, it is still very crisp. All participants agreed that the given sample had a pineapple aroma, which isvery rare for Chkhaveri wine. Ramaz Nikoladze even caught a Ziziphus aroma.
4. White Chkhaveri wine 2010 by Iberieli had pure golden colour, which Malkhaz Kharbedia described "as if it had captured the sunbeams inside". 2010 was a very hot year in Guria, which affected the quality of grapes as well. Participants compared the sample to the wines aged in Burgundian oak. Wine expresses sweet aromas and flavors of candied nuts. One of the participants even caught the aroma of sweet milk. Levan Kitia described the sample as an "aristocratic wine". Giorgi Barisashvili noted that, based on the wines tasted, one could say, Chkhaveri wine was less exposed to oxidation.
5. As it turned out, most of the participants tasted white Chkhaidze Chkhaveri 2012 for the first time. Fermentation of the wine wass based on artificial yeast. Wine is healthy, with pear and white plum tones. Acidity and sweetness was also well balanced.
6. The first from Chkhaveri Rosé, tasted at the event, was Chkhaveri 2013 by Iberieli. The wine was exceptional as it was fully fermented on half amount of Chacha (for approx. 20 days). Wine had salmon-colour. It was more pinkish in May, however, it turned into salmon colour in June. The wine colour was the focus of the participants. As Giorgi Barisashvili noted, the wine had finished colour. Even though it was made in a new Churi, unlike another samples presented by Zurab Topuridze, it didn't have the smell of smoke. We found berry aromas, red currant was especially expressed in wine. As Misha Meskhi said, wine shows "unripe" aromas, which is caused by partial Chacha fermentation. Citrus and green apple aromas were also noticeable in the wine.
7. Seventh sample was Chkhaveri Rosé of 2012, presented by Zurab Topuridze. The wine was blended with 3% of Skhilatubani and Jani. Participants admitted that initial aroma of the wine was strange. Misha Meskhi compared the aroma to Guda cheese smell and Malkhaz Kharbedia compared it to cottage cheese. Often, such aroma refers to the microbiological problems, though it is normal for natural wine. Wine was fermented on Chacha for 20 days. Everyone admitted that the flavor and aroma of this wine didn't fall into the general tendency and the style of Chkhaveri. Malkhaz Kharbedia and Iago Bitarishvili underlined "green" tones in wine, including the aromas of bay and citrus leaves.
8. Next sample was Chkhaveri Rosé 2011, made in Qvevri. The wine was fully fermented on Chacha (for one month) and afterwards for one and a half year in Churi. Like previous sample, "green" aromas were found in this wine including that of bay leaves and grapefruit. As Giorgi Barisashvili described, based on the colour, wine was exactly what he expected from Chkhaveri. According to Iago Bitarishvili, it had freshness. The color brought everyone's attention. The wine also carried very interesting, Chkhaveri-like aroma. Misha Meskhi added that he had never found grapefruit aroma in any other Chkhaveri wines. Still, we may say that plum aroma belongs to Chkhaveri (as it was mentioned above, this tasting was aimed at revealing the unique characteristics of Chkhaveri).
9. Zurab Topuridze made Chkhaveri Rosé of "Iberieli" from 2010 harvest in non-corrosive metal ware. We can say that the one cannot find the Chkaveri wine that has the dark pomegranate color on Georgian wine market. Besides Chkhaveri grapes, the wine was a blend of 3% Skhilatubani and Jani. Malkhaz Kharbedia and Giorgi Samanishvili noticed the aroma of dry plum in wine; The wine had some flaws as well, however, in the process of aging, the aromas became more interesting. According to Ramaz Nikoladze, the sample showed the aromas of forest leaves and dry berries. Obviously, aging increased wine nobility. Misha Meskhi compared the wine to an old and wise man. Several participants of the event agreed that this type of Chkhaveri wine was one of the best samples presented.
10. Chkhaveri 2012 obyGaioz Sopromadze, from Bagdati, Imereti Region, was largely discussed by the participants. According to Zurab Topuridze, the wine was very good and tasty, though less like Gurian Chkhaveri. Interestingly, it was not fermented on Chacha and still had a deep color. At first, one would think the wine smelled like it was faulty, however, as Misha Meskhi said, there are a number of famous wines that have similar aroma. This tone is so called mineral tone (for example as flint tone). In Malkhaz Kharbedia's opinion, the dark colour of this wine could be linked to the harvest year. Iago Bitarishvili even found thebaroma of a snowball in the wine.
11. Next sample of the event was "Chkhaveri Rosé 2012 made by Chkhaidze, which showed high acidity. Malkhaz Kharbedia noticed milk tones in this deep coloured wine.
12. Chkhaveri Rosé by Lukasi company was light pink in colour and looked pretty attractive. Levan Kitia compared the wine to the best Khvanchkara wines, in terms of aromas. Misha Meskhi and Giorgi Samanishvili admired the wine, as he admitted Chkhaveri shows its classical features. Wine shows red cherry and a bit of cornel aroma. This Chkhaveri was semi dry.
14. First of all, Chkhaveri Rosé 2010 produced by Acharian Wine House with a brand name "Porto Franco" stood out with its exceptional flavor. Acharian Chkhaveri is a very pleasant and prosperous event of recent years, for the Georgian market. Red currant aroma was the very first one caught by Malkhaz Kharbedia. Everyone was surprised by the body of the wine. The wine was aged in oak and as Giorgi Samanishvili said, the aromas were interesting and diverse. However, the wine was highly acidic overpowering the rest of the aromas. Misha Meskhi found the body of the wine noteworthy and to Zurab Topuridze, the color was also interesting. As for Iago Bitarishvili, he added that considering its aroma, the wine was the most "Chkhaveri like Chkhaveri."
15. And the last sample of the event was dark Chkhaveri Rosé (cornel colour). Malkhaz Kharbedia caught aroma of unripe blackberry in the wine. In Giorgi Samanishvili's opinion, the typical aroma ofChkhaveri was expressed in this deep-colored wine more, than in white Chkhaveri made by Sopromadze.
In general, final conclusions and evaluations of the participants were quite diverse and interesting at the same time. Almost all them admitted that Chkhaveri tasting helped them define and understand various types of Chkhaveri wine as well as general characteristics of these grapes.
Zura Topuridze: "In my opinion, stats of the last 4 years (based on my terroir) don't provide us with a full picture. Thus, we should continue our research and observations on the wine and studies for the future. The event was very successful, we have found out many features. However, there is much more to discover. Some wines are even to be verified whether it is Chkhaveri or not."
Misha Meskhi: "The tasting was great. We can conclude that Chkhaveri is the kind of wine that should be controlled in time dynamics. The wine is distinguished by its aging potential (each year makes it different) and sensitive towards technological processes. We have tasted conventional as well as natural Chkhaveri wines and saw that in both cases wines were interesting. I try not to generalize the characteristics of Chkhaveri wine, but I can say very briefly that this is the wine of high acidity, actually, well kept by this acidity, the sugar balances its flavour. As to the aroma, it gives the tones of green fruit, apple, plum and wild plum, rarely one of red fruits."
Malkhaz Kharbedia: "I am very satisfied with the tasting event. The oldest sample among the presented wines was one of 2010 vintage and it was hard for me to imagine in 2010 that this year, the range of Chkhaveri wines would be so diverse. This is fantastic news for us, making us optimistic about the future and allowing us to inform the society about general nature of Chkhaveri wine. We can describe today's tasting from three different angles: 1) Chkhaveri as a variety 2) Place - some Chkhaveri grapes are grown in Guria, some in Achara and some - in Imereti. 3. Winemaker. Wines showed diverse approaches of the winemakers, which is also very important.
In general, Chkhaveri is fresh and crispy wine that has the aromas of red plum and yellow fruits, also some sweet aromas (candied fruit, etc). Chkhaveri Rosés were also different from each other, last samples were especially exceptional and different from other Chkhaveri wines".
Levan Kitia: "Everything was very interesting in the dynamics of the tasting. For example, comparing Chkhaveri Rosé to white Ckhaveri according to the regions. The most interesting moment for me was defining the common flavors and tendencies. Now we can describe the characteristics of Chkhaveri wine, though I still can't decide, which one is better, Chkhaveri Rosé or Chkhaveri white."
Iago Bitarishvili: "Such tasting events are really useful and I think it will be relevant for other varietals as well, which allows us to have more defined approaches and views on the wine. One of the wines I tasted showed no special flaws and still, it didn't taste like Chkhaveri since I have my own understanding about the characteristics of Chkhaveri wine. I mostly liked the wines that had some flaws, but they tasted more like Chkhaveri. Generally, I like this varietal, though I cannot say for sure which I like the most Rosé or white Chkhaveri. I have fully immersed myself in the tasting and I promise similar tasting event will be helf for Chiniri from Kartli Region."
Marina Kurtanidze: "I would say that Chkhaveri is a very attractive and tasty wine for women, with soft and fantastic aromas. When aged, berry tones are more expressed and we may also say that aged Chkhaveri wine is far better, then the new one".
Giorgi Barisashvili: "The tasting offered a wide range of wines. We had the Chkhaveri wines from three regions: Guria, Achara and Imereti. So-called "moderate" wines of Zura Topuridze stood out for me and I have used them as a standard while evaluating the rest of the wines. Surprisingly, old Chkhaveri wines were not oxidised. This means that Chkhaveri has a good aging potential and less prone to oxidation compared to other Georgian varietals, if it is not left under direct sun intentionally. Considering its potential, I think Chkhaveri wine can be well accepted by the wine world and say its word in the future of Georgian winemaking."
Giorgi Samanishvili: "If Chkhaveri wine doesn't have the balance of acidity and alcohol, it is dead. As the tating showed, Rosés definitely show berry aromas (red berries). If you make a Chkhaveri Rosé and keep it in a proper way, these aromas will definitely be present. White Chkhaveri may show different aromas, in which case acidity and body balance is also very important. The wine should be "round". One of the exceptional features of Chkhaveri is that its body is really perfect, even if it's not fermented on Chacha. In addition to this, aging potential of Chkhaveri is excellent".
Despite the fact that this year has not been successful for Guria and that Chkhaveri yield is going to be significantly low because of the late frost, wine professionals and winemakers still hope that in 3-4 years, there will be more Chkhaveri wines on Georgian Market and that more of them will be featured at the tasting event as well. But still, the range of Chkhaveri wines are quite wide than that of Ojaleshi, Shavkapito and other wines. Chkhaveri is definitely pacing its turf to success.
© vinoge.com
Tagged: