- Posted on Fri, 04/17/2015 - 18:38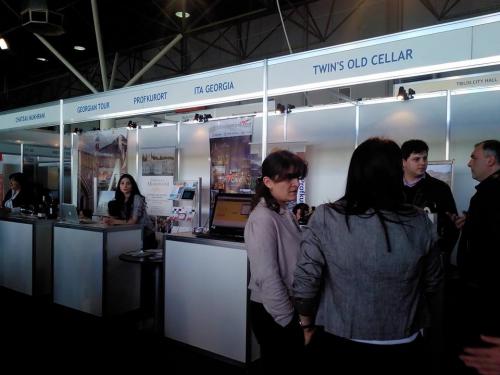 Today the 17th International Tourism Fair opened in 11th pavilion of Expo Georgia. Local and international travel companies, hotels, government agencies, including the National Tourism Administration, Agency of Protected Areas of Georgia, Ministry of Culture, and Monument Protection of Georgia, municipalities and other organizations participate in the fair. About 150 companies are represented on 60 stands, where from enotouristic projects attract great interest of the visitors.
Tourism 17th international exhibition program offers special discount package to the interested sides. Business sector and the media, as well as active tourists are among the visitors of the fair. With the support of National Tourism Administration 10 well-known international tourism companies are invited, that is a good opportunity for local organizations to learn about their experiences and represent their products to international tourism industry actors.
Large wine companies such as Chateau Mukhran, Kakhetian Traditional Winemaking, and Twins Wine Cellar are representing popular tourist products – "Wine Tour in Ivane Mukhranbatoni palace", tours of "Velistsikhe Veranda", "Georgian Chamber of Wine" and "Twins Old Cellar".
Georgian municipalities have separate stands for their products. Particularly interesting is Chokhatauri municipality, which offers visitors the Topuridze Family Wine Tour. Akhaltsikhe stand attracts the visitors with Natenadze family wine cellar and "Meskhetian Brand", which represents the wines made from unique varieties of Meskhetian Mtsvane, Meskhetian Sapere, and Kharistvala grapes. Martvili Museum of Local Lore represents Martvili Municipality, who hosts the visitors with Ojaleshi wine and gives the information about the family wine-makers in the Salkhino and Targameuli villages.
Center of Tourism development and Cultural Heritage Protection represented Ambrolauri municipality. This organization was founded a month ago in Racha and its one of the strategic directions is enotourism. Director of the center, Natia Maisashvili while talking to the "Wine Information Center," mentions that wine tourism is the best way to reduce poverty in the region of Racha. Touristic products of the center, at this point is in development stage. Their partner wine companies-Bugeuli and Ambrolauri wine factories are preparing for the new tourist season. They are setting up tasting halls for the visitors. As Maissashvili reported, the center will be focused on small family wineries.
In order to extend business cooperation, businesspersons interested in wine as well as potential buyers have the opportunity to be connected with the Georgian guides in the stand of Georgian Guides Association. Kate Akhobadze, who simultaneously represents the Guides Association and a travel agency - "Diwine Wine Tours", notes that demand for wine guides in Georgia is increasing yearly. 12 wine guides operate in domestic tourism market, which are trained and certified within the EPI, USAID program.
17th International Tourism Fair will last three days in Expo Georgia Exhibition Center and will be closed on April 18.
© Georgian Wine Club, Wine Information Center
Tagged: