- Posted on Wed, 05/13/2015 - 11:24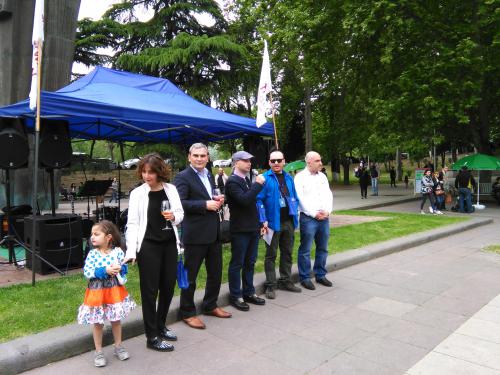 On May 9, on the second day of "New Wine Festival 2015", Wine Club hosted thousands of people at Deda Ena Park. Wines of up to 60 large companies and small cellars, also wines of 55 family cellars were presented at the Festival; the following organization participated in the Festival: "Association Qvevri Wine", "Wine Tourism Association", "National Tourism Administration of Georgia", "Scientific - Research Center of Agriculture" and other governmental or non-governmental organizations. Besides devoted and famous participants that were present at the Festival, recent Festival was distinguished with pretty good number of new faces.
"New Wine Festival 2015" was supported by Wine National Agency, Tbilisi City Hall, National Tourism Administration of Georgia, Company "Borjomi"; media support: Wine Informational Center and Marani (Vinoge.com), TV GDS, Radio "Utsnobi", Radio "Jako" and partners such as National Library of Georgia and GT Travel Group.
Malkhaz Kharbedia, President of the Georgian Wine Club, expressed his thanks for the Festival Partners and guests, for their support; he also admitted that number of wine enthusiasts is increasing each year and people are more interested in high quality Georgian wine. Correspondingly, together with other factors, New Wine Festival is an important contributor. Gigla Agulashvili, Minister of Environment and Natural Resources of Georgia, Giorgi Samanishvili - head of the National Wine Agency, Nina Khatiskatsi - deputy mayor and Giorgi Chogovadze - Head of the National Tourism Administration of Georgia made speeches to public. They spoke about civil influence of the New Wine Festival and underlined important role of the Festival in the development of the wine culture in Georgia. Minister of Environment and Natural Resources of Georgia admitted that: "Festival is a perfect model of civil activity of power and citizens, initiatives of people and associations, whether how we should do good and useful activities together". Honorable guests of the Festival participated in Qvevri opening - traditional ritual of "New Wine Festival". This year, Erekle Loladze's Kakhuri Mtsvane of 2014, was presented in major Qvevri.
Like previous years, many people were seen at family cellars, where mostly local guests sampled already familiar wines, as well as new wines. Foreign guests visited stands of the small wine cellars (Organic wines and Vines by Jakeli, "Pheasant's Tears", "Kerovani" etc) and large companies (Winery Khareba, Bagrationi, Tbilvino, Lukasi, Corporation Kindzmarauli, Shumi, etc). Many wine journalists and wine bloggers were seen at the tent of "Association Qvevri Wine", where wines made via traditional Qvevri technology were presented from the small enterprise (Nikoladzes' Cellar, "Our Wine", "Iberieli", "Mandili", "Kakha Berishvili's Cellar", etc), known for their technologies among wine professionals and lovers around the world. This year's newcomer was Mariam Iosebdze with her cellar.
"For me, "New Wine Festival" is the chance to show new products to our guests, meet old friends and make friendship with new ones. If we say that Georgia is the cradle of wine, we have to show to the world that we do have really good diversity, including all cellars, from large to small. Thus, I shall gladly participate in Wine Festival, every year" - says John Wurdeman, founder of "Pheasant's Tears", having presented Rkatsiteli Rose and Kakhuri Mtsvane for the first time. As Nana Maraneli, Sales Manager of Winery Khareba admits, "New Wine Festival" is not only good for wine, but it is also very important for the promotion of the Georgian culture, in general. This day gives us chance to sample new and rare wines, improve the quality from year to year and introduce the Georgian culture to foreign guests". Archil Natsvlishvili, incorporator of "Kerovani" says: "Festival is a organic continuation of vintage, family celebration, held through the entire country. It is very pleasant to see so many people, united under one idea".
Music was backed by Jazz Band of Rezo Kiknadze with Papuna Sharikadze, young musician, Folk Ensemble "Didgori" and Band "Nali". People participated in lotto type games, where winners were awarded with 10 l Saperavi wine barrels.
There were foreign guests at the Festival, visiting Georgia exactly for the New Wine Festival 2015. Festival also hosted foreign sommeliers, journalists, bloggers, wine writers, distributors from Holland, USA, Italy, Ukraine, Great Britain, etc.
"Festival is very interesting, as it introduces many entrepreneurs still following old traditions. This is very important for me as I'm not for technological methods. I choose honest wine, where I can feel grapes. I already know the Georgian wine, though there are so many rare grapes to be discovered! .. Our aim is intensive promotion of the Georgian Wine, as we are selling quality Georgian Wine in Italy" - says Sophie Riby, Sales Manager of the Company "Velier" from Genoa, Italy.
Due to the rainy weather, Festival finalized a bit earlier than it was planned, though guests and participants showed their satisfaction towards the New Wine Festival 2015, saying that May 9 event was successful and effective at Deda Ena Park.
© Georgian Wine Club, Wine Informational Center
Tagged: