- Posted on Fri, 04/21/2023 - 21:51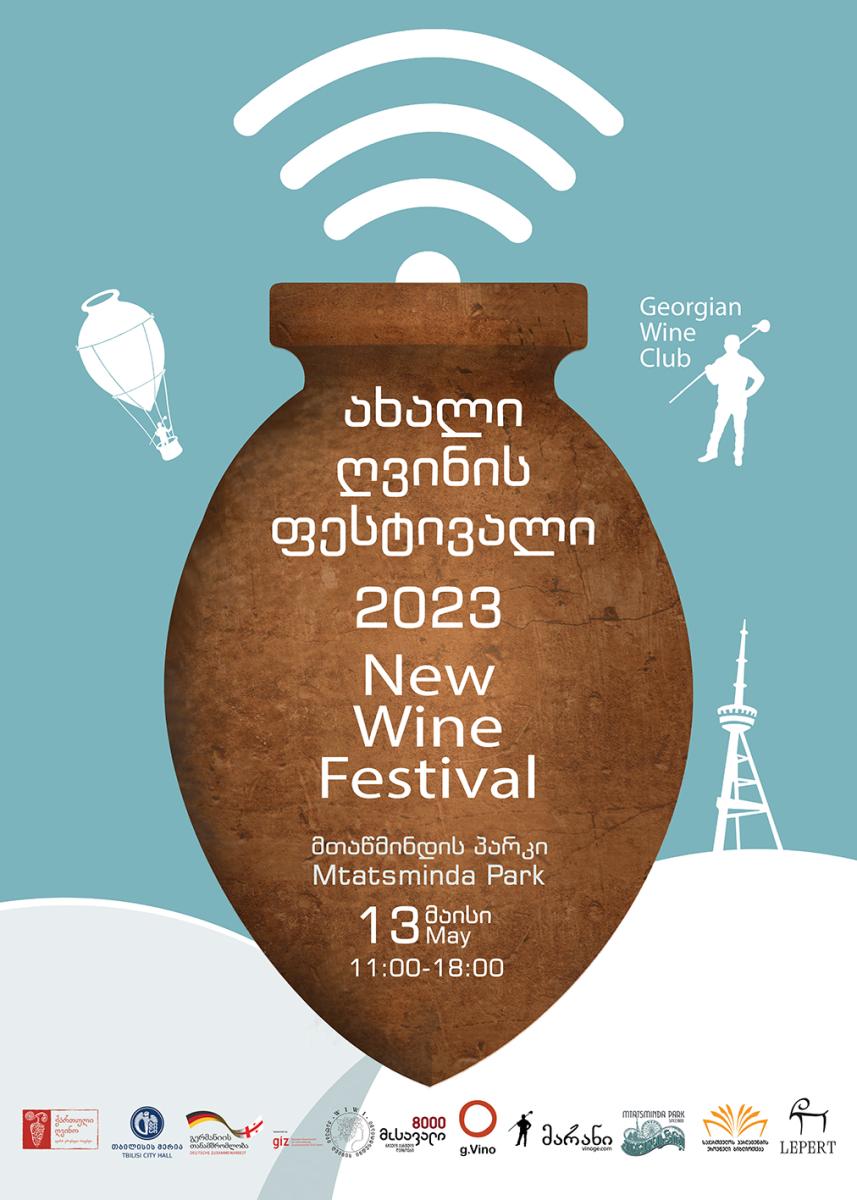 The New Wine Festival 2023 will be held on May 13 this year. The Festival will traditionally be hosted by the Wine Club and will be held in Mtatsminda Park in Tbilisi. The event partners with: the National Wine Agency, Tbilisi City Hall, Deutsche Gesellschaft für Internationale Zusammenarbeit (GIZ), Women in Wine Industry (WIWI). Information coverage is provided by Marani website (vinoge.com) and Wine Information Center. Other valuable partners of the Festival include: the Mtatsminda Park, G.Vino wine bar, 8000 Vintages chain of wine shops, the National Parliamentary Library of Georgia and Lepert.
The well-known and best-loved wine companies and small wineries, as well as new brands with new wines and concepts are included in the list of companies below. We will get to know the wine companies participating in the Festival today, and we will later publish the list of new family wineries whose wines will be selected for presentation at the Festival by the Tasting Committee based on tasting.
On May 13, the New Wine Festival 2023 will proudly present the participants: 100 wine companies, 4 companies related to the wine sector and 14 small businesspersons showcasing wine-themed handicrafts.
Wine companies:
1. Agricultural University of Georgia
2. Alazani
3. Alapiani's Marani
4. Amoa
5. Artizani
6. Baia's Wine
7. BinaN37
8. Casreli
9. Caucasus International University
10. Chalabriani
11. Cellar Utskinari
12. Chona's Marani
13. Churi Chinebuli
14. Corporation Kindzmarauli
15. Do-Re-Mi
16. Ethno
17. Eclipse Winery
18. Enophea
19. Gabriel's wine
20. Georgian Wine House
21. Gogla's
22. Guram Beruashvili's Cellar
23. GURA
24. Gurian Wines
25. Gvinia
26. Jakeli Organic Vineyard and Wines
27. Juso's Wine
28. Kardanakhi 1888
29. Khashmi Hills
30. K&K Natural Wines
31. Lionidzis Zvari
32. Lisiwine-Meskhishvili family winery
33. Loladze Family Winery
34. Lomtadze Family Wine
35. Marani Gvazi
36. Marani Gelovani
37. Marani Sanavardo
38. Marbano
39. Martali Wine
40. Mildiani Family Winery
41. Mijnuri
42. Nikifore
43. Old Tbilisi
44. Ortomeli
45. Ori Gvari
46. Papari Valley
47. Pavle's Marani
48. Pery Wines
49. Qimerioni
50. Qvevri
51. 39 Qvevri
52. Rare, Georgian Wines
53. Rtvelisi
54. Rero Winery
55. Samisi
56. Satsnakheli
57. Shalva Gvaramadze Winery
58. Sherma Family Winery
59. Shumi Winery
60. SN Winery
61. Tavankari
62. Tbilvino
63. Tchrebalo Wine Cellar
64. Teliani Valley
65. Temi
66. Terra Qisi
67. Tifliski Vini Pogreb
68. Togonidze's Wine
69. Udabno Wine
70. Uplistsikhe Estate
71. Uzunashvili's Mukuzani cellar
72. Vakho's Marani
73. Veleula Your wine cellar in Racha
74. Villa Mosavali
75. Vismino
76. Winiveria
77. Winery Melitoni
78. Winery Makharebeli
79. Winery Rtoni
80. WIWI - Women in Wine Industry
81. Demi`s Winery/Chateau Demi
82. Dano Winery
83. Doctor's Bio-cellar
84. Family winery Tamarini
85. Ia's Winery
86. Kardanakhi Estate
87. Katewine
88. Kizikuri Traditsiuli
89. Mamiseuli Marani
90. Madamwine
91. Mandzulas Marani
92. Marani Sachino
93. Miranda's wine
94. Orta
95. Pataridze Rachuli
96. Pearl of Imereti
97. Pongino Wine
98. Sopho's Family Winery
99. Tinatin
100. Wine cellar Khidishlebi
Other companies:
101. Tabla Nova
102. Wine Club
103. Lepert
104. May Wong - Ancient Wines
Small entrepreneurs
105. Artmani
106. Duchi Handmade Accessories
107. Fotia
108. Jambo Handmade
109. Keto's
110. Khilabandi
111. Kirke
112. Kodium
113. Lia Art
114. Lile
115. Mariami Handmade
116. Natka
117. ShushaBanda
118. Taplaqvevri - Eka's Cake
© Wine Club/vinoge.com
Tagged: