- Posted on Tue, 08/04/2009 - 13:09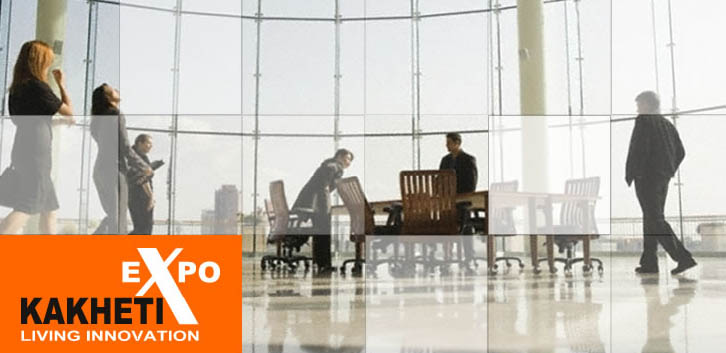 the First Exhibition and Convention Center Outside Tbilisi
On July 30, 2009 the USAID-supported Small and Medium Enterprise (SME) Support Project and Telavi Regional Chamber of Commerce and Industry hosted the launch of a new Exhibition and Convention Center called ExpoKakheti in Telavi. The opening of ExpoKakheti was immediately followed by the trade fair AgroKakheti 2009, July 30-Aug 1, 2009 focused on agricultural products, wine, wine tourism, raw materials, packaging, machinery, and equipment. List of participating companies included Telavi Wine Cellar, Wine Company Shumi, Vinoterra Wines and Spirits, Schuchmann Wines Georgia, Hermes Ltd, Agribusiness Development Activity, Transcaucasus Crystal Ltd, Tegeta Motors, Agrovitae Ltd, Ministry of Economic Development of Georgia, Alaverdi Monastery Wine Cellar, Elkana, Sole Proprietor Natroshvili, Sole Proprietor Givi Toradze, Sole Proprietor Tushuri Pardagi, Constanta Bank, ProCredit Bank, Georgian Incoming Tour Operators' Association and others.
ExpoKakheti Ltd is a brand new and modern exhibition and convention center located in Telavi, Kakheti Region of Georgia. It is the first and the only permanent exhibition facility outside Tbilisi. In his welcoming remarks, Lasha Zhvania, Minister of Economic Development emphasized that ExpoKakheti will promote the export of local products, and encourage trade and investment cooperation between local companies and foreign businesses.
ExpoKakheti Ltd is a private company established by the Telavi Regional Chamber of Commerce and Industry and private sector companies, with the support of the USAID-supported SME Support Project. In March, 2009 SME Support Project awarded a $150,000 grant to Telavi Regional Chamber of Commerce and Industry to set up a convention/exhibition center in Telavi. The total cost of the project is $470,000; $320, 000 USD was contributed by local businesses that are shareholders of a newly-established ExpoKakheti together with Telavi Regional Chamber of Commerce and Industry.
ExpoKakheti is a company that offers its clients not only an exhibition venue, but also a complete range of services designed to help a client or investor start-up do business in the region of Kakheti. The center plans to have four thematic fairs a year. In-between the fairs, ExpoKakheti will operate as a show-room facility for local producers, companies from other regions of Georgia, and investors or foreign companies willing to start and develop their business in the region.
According to Joakim Parker, Acting Mission Director of USAID/Caucasus, "The facility is expected to operate not only as a venue for fairs and exhibitions, but be proactive promotional unit offering all interested individuals or companies a wide array of services aimed at promoting local exports and trade in general, and attracting foreign and Georgian direct investments in the region."
Within AgroKakheti 2009, in cooperation with the EU-Georgia Business Council, the Chamber is holding a workshop on access to EU markets on July 31 and on August 1, the workshop on Prospects of Wine Tourism Development in Kakheti.
© The Messenger.
Tagged: