- Posted on Tue, 09/21/2010 - 10:45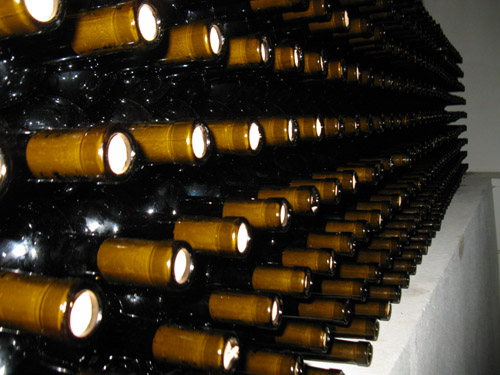 By Manana Vardiashvili
From now on, the Georgian government and local exporters will work together for the popularisation of Georgian wine abroad. After a year long consultation with wine-producing companies, Georgian government decided to create a Wine Association, where the government will pay 600,000 GEL membership fees annually. This money will be spent to facilitate Georgian wine increasing its visibility in the global wine-market.
To reach foreign markets, Georgian wine-producer companies will be obliged to unite under the common label – "Wines of Georgia" ,however, companies are allowed to leave other product attributes unchanged. The government believes that Georgian wine has greater export potential in the world market when being under a common umbrella. The companies welcomed the idea to bring the image of the country as a wine producing one to the first place.
Last year, the Georgian government announced a tender for the creation of a national wine strategy. It was advertised in 'The Economist' magazine, ostensibly to increase international participation. However, by this announcement the government actually showed its inability to solve the existing problems in this sphere. According to the conditions of the tender, which was conducted with the financial support of the World Bank, the winning company was supposed to present a strong plan for the development of wine industry, analysis of the existing situation in this field and strategies how to act on new markets. The winner became American company "I.O.S. Partners." The idea to create one common brand for all Georgian wines, which would enable them become familiar for foreign customer, also belongs to this American company. According to analysts, in huge markets like EU, China or USA, separate small companies will not be able to present themselves as successfully as by joint efforts. To enter these markets, the company needs huge expenses for the advertisement.
Moreover, consumers generally prefer goods from the countries which they are familiar with: they need to know where this wine is coming from, what are the varieties of vines from which the wine was produced, etc. Most consumers are well acquainted with such a brand as 'Cabernet Sauvignon,' but have never heard about Georgian 'Saperavi' or 'Tsinandali.'
The methodology of a common umbrella has been successfully used by African countries since the 1980s, when they started to export their wine to world markets.
Vasil Managadze, the head of the Vine and Wine Department ('Samtrest') at the Georgian Ministry of Agriculture, said that creation of Association was dictated by the market demands. "Georgian wine is exported to different countries and we always face stiff competition there. We had to act accordingly because market dictated its rules to us. Many wine-producing countries have already created wine associations. Now it is our turn. Our wine-producers finally decided that to achieve some success we need to unite and work together. It means that local producers must see each other as a partner. Georgian wine-producer companies cannot penetrate the world market if they act individually. They won't be able to find a decent place on the market by using only their own financial and human resources. When companies become members of the association they are able to use governmental financial support and joint forces to improve their results and present their products to the foreign markets under one brand name. We think that companies must consolidate their human and financial resources." According to Managadze, the primary goal for the Georgian Wine Association right now is to enter the USA wine market. Georgia has already made plans to enter this market in 2011.
20% of the wine products, which are produced by the «Bagrationi 1882» company, are exported to Ukraine, USA, Germany and Turkey. Lika Kapanadze, the head of the PR department of the company says that «the popularity and image of the country helps a lot in product sales. Georgia is very popular and well known for its wine-production among the Post-Soviet countries, but Georgian wine is almost unknown for European and American customers. Due to this fact, first of all it is vitally important for Georgian wine-producers to create a good brand image and to introduce Georgia as wine-producing country. After that it will become much easier to offer our products to these new customers. That is why we expect only positive results from this idea of common umbrella. »
Exporting manager of 'Teliani Valley,' Eka Javakhia also believes that one of the main reasons for the low levels of Georgian wine export is a fact that people do not know about Georgia. «Europeans have no idea that Georgia is a wine-producer country. At the first stage we need to introduce our country to these people. European and American consumers must know that Georgia has very long history of vine and wine culture. If we won't increase the level of public awareness among future consumers, Georgian wine will always face problems in getting to new markets. Chile and Australia used precisely this strategy and that is how they were able to create their own brand space in the world market. The consumers initially had no idea about small Australian wine companies, but they soon accepted Australia as a wine-producing country. After this preliminary stage, it is vitally important, that local wine-producers improve the quality of their products to make it adequate to the standards of particular market. »
Some analysts believe that cooperation of Georgian brands in order to increase their potential for export – will not really solve the problem. Many companies try to find their place in foreign markets by themselves and we have some successful examples. Specialists of this field do not argue the fact that Georgian wine has strong potential to get to the world market – what is most important is to present the new brand to the customer in the appropriate way. The most important thing is that wine-producers must harmonise the taste of the customers with the price policy of the product.
Wine production is one of the most important spheres of Georgian economic. In 2005, 78% of Georgian wine was exported to Russia. In 2006, when Russia announced economical embargo on Georgian goods, Georgian wine export has decreased from41 million US dollars (in 2006) to 29 million US dollars (in 2007). The wine export was shifted towards other CIS (mainly to Ukraine) and European countries (mainly Poland). But this shift could not completely compensate the losses, which Georgian wine export suffered from losing the lucrative Russian market. In 2007 Georgian wine export was only 36% of 2005 export level.
After Russian economic embargo, Georgian wine export was distributed among other CIS countries. According to official statistics data, right now the greatest part of Georgian wine export goes to Ukraine, Kazakhstan and Belarus. In Europe the biggest export volumes go to Latvia and Poland.
The most popular alcoholic drinks in Georgia are: wine vodka, liquor, and brandy. The main segment of wine-industry, about 65%, is semi-sweet wines; the rest 35% is dry wines. Georgian wine-producers mainly make dry, semi-dry, semi-sweet, sweet, sparkling and aromatised wines. According to the data of the Georgian Ministry of Agriculture, there are 218 registered alcohol drink producer companies in Georgia. However, right now only 70% of these registered companies are operating on the market. At the same time only 35% of them are exporting their products abroad. The same source says that Georgian wine is exported to more than 40 countries.
The biggest Georgian wine-producer companies are: "Teliani Valley," "Tbilvino," "Tbilisi Wine Marani," "Telavi Wine Marani," Georgian Wine and Spirits Company" (GWS), "Taro," "Vaziani," "Shumi," "Khareba," "Kindzmarauli," and "Tbilvazi." The great majority of these companies are equipped with modern technologies and are mainly export-oriented. 90% of the wine, which is produced in Georgia, is for export, the local demand is only 10% of the total amount of wine. Georgia is producing approximately 1 million hectolitres of wine annually and it holds 0.3% shares of world market.
According to the 'Samtrest' information, during the first 7 months of 2010, 7,800,000 bottles of wine was sent for export. This amount is 48% more compare to the same data of previous year. The greatest part of this increase is due to the increasing demand of Ukraine, where 4 million bottles of Georgian wine have already been sold this year.
This year 25% increase has seen in Kazakhstan, Belarus, Poland and Latvia. In total, 2.5 million bottles were sold in these countries, which is 1/3 of whole Georgian wine export.
During these 7 months the export of Georgian wine has increase 5 times in Turkey. During this period 57,000 bottles of Georgian wine has been sold there in total.
©Georgian Times