- Posted on Sat, 03/17/2012 - 23:03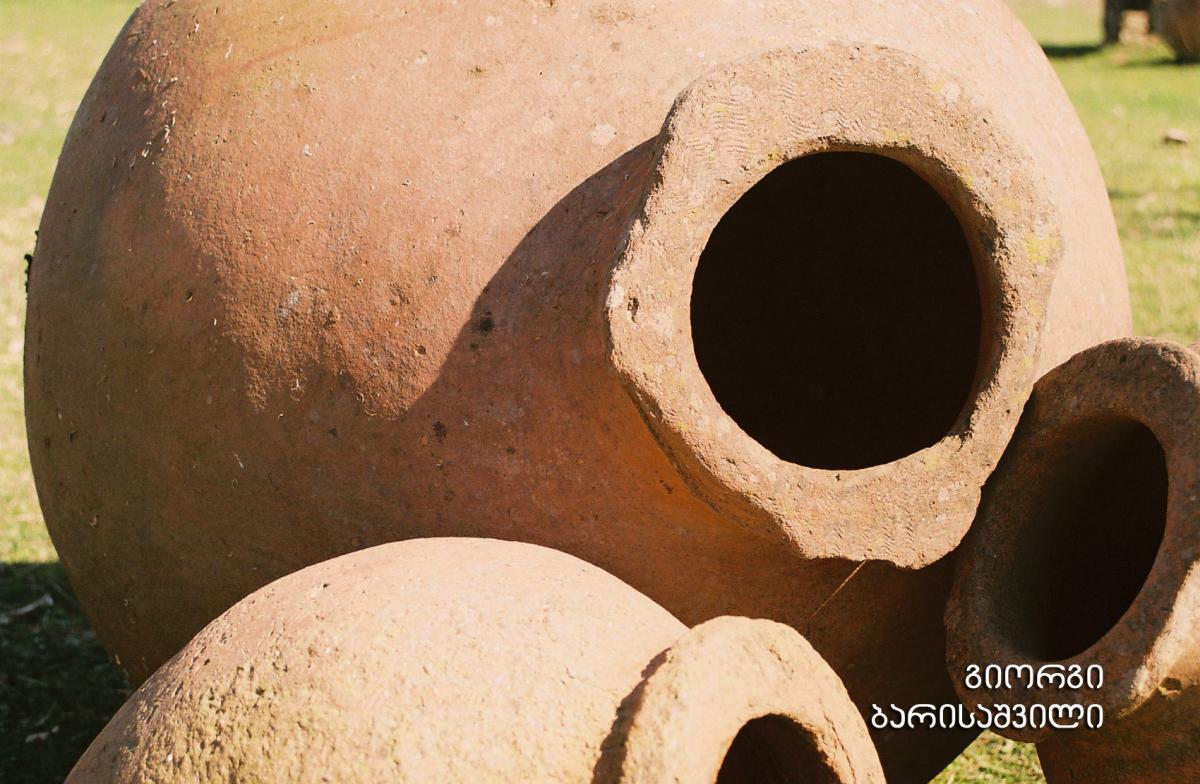 By Giorgi Barisashvili
Introduction

Based on scientific and archeological research data, one may say with confidence that Georgia is a country of vine and wine, where many varieties of grape have been developed. "In no other country in the world is wine so good and drunk so amply as in Georgia, where the archaic winegrowing and winemaking techniques have been preserved and are still being employed"… (Lekiashvili. Thou Art a Vineyard. 1972, Tbilisi)
In the course of its centuries-old history, the country has developed a unique winemaking technique – pouring grape juice into qvevris, the large clay vessels buried in the earth up to their tops, then sealed. Since antiquity, this knowledge has gradually developed and improved nourished by experience.
Among ceramic artifacts found by Georgian archeologists, the qvevri is unique and its traditions have endured over the centuries. The oldest earthenware discovered in excavations is clear evidence of the high level of craftsmanship of the ancient Georgians. Qvevris were used for storing cereals, melted butter, for chacha (grape vodka) and other vodkas, for pickled and other food products. However, the origin of the qvevri is associated most distinctly with the development of winemaking, and is chiefly used as a wine vessel.
Of course large earthenware crockery is found in other regions, though mostly for other purposes. Making a type of clay vessel to be used in winemaking was principally developed in Georgia, and thus the country possesses one of the most important examples of the world's winegrowing and winemaking history. As many scientists believe, the word ghvino (wine) originates in the Georgian language and then spread into many other languages (wine, vin, vino, etc).
The qvevri and its technology have evolved over time, yet due to their uniqueness, they have reached us almost unchanged after many centuries.
Qvevri-making used to be the leading branch of the five branches of pottery in Georgia. Not long ago, qvevris in Georgia were widely used, however today their use and production are limited –only a few artisans are still master qvevri-makers. Qvevri making, especially for large-capacity qvevris, requires great skill, experience and expense.
To illustrate that qvevri-making is a very complex branch, it can be contrasted to that of the brick-maker, who could freely make tiles; and to a potter, who could freely make the traditional bread ovens called tonne. However the skills needed to make qvevris have always been considered a higher and distinct art in Georgian ceramics.
In the past qvevris were made in many places including Sairme, Tskhavati, Utslevi, Anaga, Bodbiskhevi, Chkhiroula, and others (see following chapter). Today qvevri-making is only found in five or six villages of Georgia.

Names of qvevri in ancient Georgia
In ancient times clay vessels for wine storage of different sizes and shapes were named according to their shape and use. Georgian qvevris have different shapes and sizes and are called by different names. For example, interesting references can be found in Sulkhan-Saba Orbeliani's 18th century dictionary of the Georgian Language "Sitkvis Kona": "A churi is a vessel made of clay: qvevri, kvibari, kotso, khalani, dergi, lagvni, lagvnari and the like."
In old Georgian the word "churi" had several meanings (weapon, chain armor, and vessel). Today, in West Georgia churi is used for qvevri. Interesting references concerning the names of qvevri in two provinces of West Georgia were found by the academician Ivane Javakhishvili:
"In Guria and Samegrelo they use two names to define two vessels of different sizes. In particular, big and average-size vessels were named 'churi' in Guria and 'lagvani' in Odishi; while smaller ones, holding up to 5 buckets of grape juice or wine, were known as 'kvibari' in Guria and as 'lakhuti' in Odishi."
From: Making Wine in Qvevri: a Unique Georgian Tradition, Tb. 2011.
© elkana
Tagged: