- Posted on Thu, 01/29/2015 - 19:26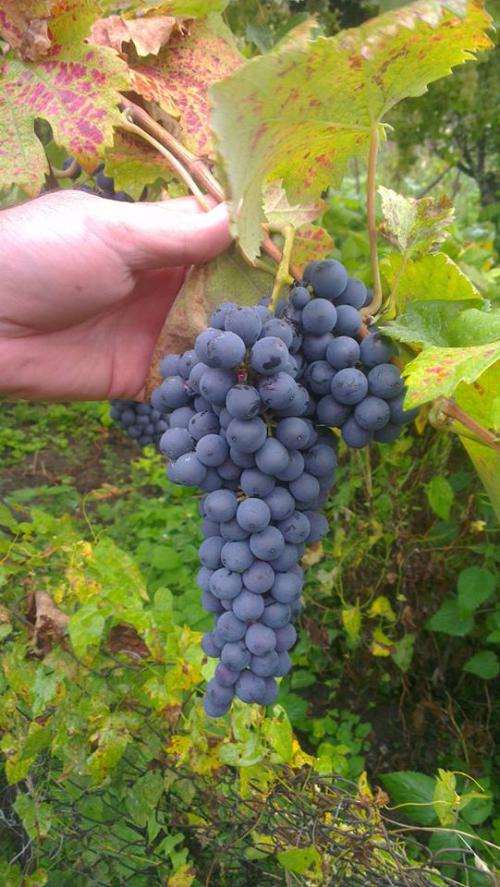 Giorgi Barisashvili
Vine that we would like to introduce you has never been kept in any of ampelographic lands of Georgia, until now. Though, it counts many years of existence in the village of Mejvriskhevi and villagers are making high quality rosés there.
Mejvriskhevi – a historic village of Shida Kartli is situated in 20 kilometers from Gori and at 800 m above sea level, on the left bank of the River Mejuda. As the name of the river says, village was named as Mejudaskhevi, in the past. Though, the village is situated at 800 m above sea level, it offers really perfect conditions for the development of winemaking fields.
For the purposes of venue research, we have visited the village in 2014, for minor studies, having received some interesting information about Mejvriskhevi Saperavi. We have interviewed about 20 villagers, visited vineyards and sampled locally made wines.
As it stands, presently, vine – Mejvriskhevi Saperavi, as single vines, is cultivated by 50-60 villagers, approximately, and richer vineyards are presented as vine arbours. Up to 15 families produce grapes and wine, making approximately 300-500 l Mejvriskhevi Saperavi per year. Point is that, many people with family name - Khomasuridze live in the village of Mejvriskhevi, being established from Racha long ago. We also met the eldest representative of the family name, who told us that supposedly, Mejvriskhevi i.e. Khomasurian Saperavi was brought by the Khomasuridzes from Racha . . . Though it needs to be researched thoroughly. As for the wine made by the villagers, which is very popular among local people, can be characterized as follows: notwithstanding the wine name, wine has no intense color and as usual, it is rosé or of light red colour, showing its clear, transparent and attractive nature. Wine aroma pushes out the tones of pomegranate and currants, being pretty aromatic wine. Wine sharply shows its high acidity, making it almost sourish, though giving it great freshness. We suppose that wine is very interesting as for making sparkling wine, as well for traditional "Chacha". It should be mentioned that, in terms of acidity, 7 various samples, we sampled in the village, showed the same condition. We have also provided lab test for one of the wine samples, making it clear that titric acidity of wine is more than 8 g/l and alcohol is up to 11%.
As villagers admit, harvesting takes place from the beginning of October, with up to 20% of sugar volume in grapes, for this period of time. Based on their information, Mejvriskhevi Saperavi was widely spread on lower lanes, about 40-50 yars ago. Presently, we have found two lower lane vineyards, one comparably larger vineyard, with Vakhtang (Iuza) Goginashvili and the other smaller one, with Gia Gogiashvili, having cultivated the vine in old Georgian tradition, on individual sticks. We have found the arbous of Mejvriskhevi Saperavi with Akaki Khomasuridze, Goderdzi Khomasuridze, Zurab Kapanadze, Tamaz Bunturi, Mikheil Masurashvili, etc. Wine quality of Zurab Kapanadze, Mejvriskhevian smith genuinely deserves special mention.
Considering high potential qualities of the wine, we hope it will attract more attention from local population, as well as wine cellars. It should be noted that, we have delivered Mejvriskhevi Saperavi shoots to the Vine and Fruit Collection Land of Jigaura, where it will be cultivated and kept on the ampelographic parcel of land.
© Wine Club, Weekend
Tagged: