- Posted on Sat, 11/22/2014 - 00:24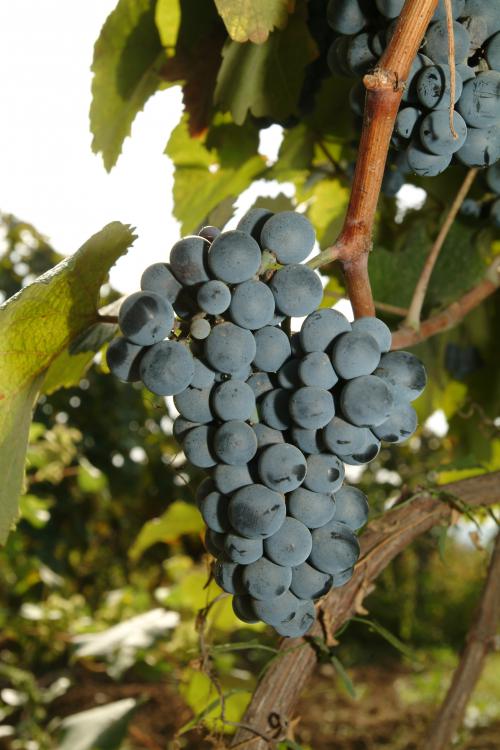 By Aleko Tskhitishvili
Pursuant to the Law of Georgia "About Vine and Wine", Ojaleshi and Orbelian Ojaleshi are two different grape varieties. In the 3rd chapter of the law, standard grape varieties recommended for winemaking are listed, where Ojaleshi and Orbelian Ojaleshi are named separately. However, the winemakers from Lechkhumi region label their wines made from Orbelian Ojaleshi grapes as simply Ojaleshi. Even the National Wine Agency calls it Ojaleshi, the official organization, which is responsible for identification of grape varieties.
"It's time to give everything its name," said Zaza Gagua, a representative of a small cellar, Vino Martville, which receives Ojaleshi grapes from vine growers in the villages of Tamakoni and Targameuli, Martvili Municipality, and makes dry red wine from them. Despite the limited edition, the wine has soon become famous not only for its quality, but for being the first bottled dry wine under Ojaleshi label. In Soviet times, semi-dry Ojaleshi was very popular and it never changed its style. Dry Ojaleshi by Zaza Gagua, attracted not only Georgian gourmands, but foreign buyers as well. Up to 200 bottles of Vino Martville of 2013 vintage have already entered the London Market. Following this success, Zaza Gagua has planted his own Ojaleshi vineyard and plans to have other indigenous varietals as well.
Lado Kublashvili, a winemaker of Khareba Winery also agrees to the importance of naming Ojaleshi grapes precisely so that it is not associated with the Orbelian Ojaleshi varietal: "Our company fully follows the principle of pure classification, besides, our wines are bottled in specific micro-region. We think that Usakhelouri wine, for example, should be made from Usakhelouri grapes grown in the specific micro zone of Okhureshi and Ojaleshi should be harvested in Samegrelo, in historically known micro zone of the Valley of the River Tekhura."
Two types of Ojaleshi with two different prices
The prices of these two types of Ojaleshi clearly showed the difference between Ojaleshi and Orbelian Ojaleshi. The price of Ojaleshi was 6 Gel in Martvili Municipality, and the one of Orbelian Ojaleshi - 2,5 Gel in Tsageri Municipality.
At first, growers of the villages of Tsageri Municipality expressed dissatisfaction about the price of the Orbelian Ojaleshi grapes offered by the companies. National Wine Agency responded them officially: "Today, when the harvest is almost over, some people in Tsageri Municipality try to hamper the process of grape delivery. Wine companies continue to receive the harvested crops continuously and are ready to pay maximum price for Ojaleshi grapes (2.5 Gel), ever set in Tsageri. Thus, objecting the prices by the growers and hampering the harvesting process is really unreasonable. It should be noted that, the time when the Georgian Government directly interfered in this process, set the price for grapes and competed with a private sector, is over. Government should not interfere in price making anymore, as market itself sets the price."
The situation was quite different in Samegrelo as Ojaleshi grapes had a record price of 6 Gels per kilogram. This price is two times more than the price offered to the growers in previous years. Such price increase was preconditioned by the appearance of Khareba Winery on the market and its interest towards Ojaleshi. This year, Khareba Winery purchased Ojaleshi for the first time from the growers of the best micro-region, from the villages of the River Tekhura (Salkhino, Tamakoni, Targameuli). As Lado Kublashvili told us, the ompany will make two types of wine from the purchased grapes – semi-sweet and dry. Moreover, dry Ojaleshi will be made following a traditional qvevri method of winemaking.
As Zaza Gagua explained, before the Khareba Winery, he had a deal of buying Ojaleshi grapes from growers for 3 Gel. Representatives of Khareba Winery initially offered 5 Gel and then, 6 Gel per kilogram: "In fact, the company competed with me in auction, first they raised the price up to 5 Gel and when I decided to pay that price, they purchased Ojaleshi grapes for 6 Gel. On one hand, such competition and growth of demand are good for the development of viticulture and for local growers to plant more Ojaleshi vines in future. In recent years, I asked them, as well as local municipalities, to pay attention to the cultivation process of unique grape varieties. People would continuously cultivate nut plantations instead of growing vines. Hope that at least now, they will understand that cultivation of Ojaleshi and other local varieties is more profitable and patriotic deed. On the other hand, Khareba Winery raised expectations in local growers that there will be demand for grapes next year as well and they hope that the winery's interest in Tekhura valley will not vanish."
As Lado Kublashvili says, local growers dictated price and finally, the company purchased grapes at a price that was requested by the growers: "This year, in Samegrelo, as in other regions of the West Georgia, frost damaged the vine and the growers were able to crop only one third of the total harvest. So, as they explained, this situation also affected the final price. We definitely plan to purchase local grapes for the next year as well at a price that will be dictated by the vintage and other factors. In future, we will try to buy the land in this region and plant our own Ojaleshi vineyard. We also expect that other companies will follow our steps and get introduced to the authentic Ojaleshi as well. In this case, the competition for Ojaleshi grapes will increase, which will benefit the local growers. It will also ensure the preservation of Ojaleshi varietal in the region."
"100% Ojaleshi" … "1700 meters above the sea level"
In the statements of the National Wine Agency regarding the Lechkhumi vintage, the identity of the grapes is not quite defined. It would be less confusing if the National Wine Agency mad a distinction between Orbelian Ojaleshi and Ojaleshi grapes.
The thing is that even the ampelographers have not agreed on the origin of the Orbelian Ojaleshi grapes. The book named "Ampelography of Georgia," a substantial work published in the last century by Niko Ketskhoveli, Dimitri Tabidze, Maxime Ramishvili, offers a list of Georgian grape varieties. There is a red grape variety Orbeluri listed separately in the book from Racha-Lechkhumi region and another red grape varietal named Ojaleshi from Samegrelo region. There is one more red grape variety - Ojaleshi of Guria. Authors explain that these varietals are authentic and differ from each other.
According to one of the versions about the origin of Orbelian Ojaleshi grape, this varietal entered Lechkhumi area from Samegrelo, in the 19th century and developed independently. As a result, it has changed and developed different characteristics. There is also another version of Maxime Ramishvili, one of the authors of the book, that Orbelian Ojaleshi could be the French Merlot. Definitely, everything needs to be clarified and proved and ampelographers have a lot of work to do. The fact is that the the list of Georgian grape varietals, verified under the Law of Georgia "About Vine and Wine", names Ojaleshi and Orbelian Ojaleshi grapes separately.
Moreover, the labels of bottled Ojaleshi wines may be misleading. Here are some of the examples:
Telavi Marani wine label of 2010 vintage says that it is made from Ojaleshi (and not Orbelian Ojaleshi), and names its origin as Racha-Lechkhumi Vinery. It is ridiculous, as nobody argues that Ojaleshi originates from Samegrelo. Besides, company claims that it is a red, semi-sweet PDO wine as well. It is very interesting, as we have only 18 PDO wines in Georgia and Ojaleshi is not among them. Ojaleshi is a grape varietal and not the name of a region. Finally, the label states that the wine is made from 100% Ojaleshi grapes of 2010 vintage from Racha-Lechkhumi Winery.
The label of Tbilvino Ojaleshi wine, bottled in 2006, is shorter and has fewer mistakes. In this case, the company clearly indicates that the wine is made from Orbeliani Ojaleshi grapes grown in Lechkhumi region. Despite this fact, the label still says it is Ojaleshi wine, which is a little confusing for consumers.
Ojaleshi of Tchrebalo Winery located in Ambrolauri Municipality, gives very short info as well. Label says that Ojaleshi is red, naturally sweet wine and is made of the same varietal. Though, it is up to the consumer to guess how these grapes of Samegrelo region was found in Racha.
Label of Traditional Kakhetian Winery is quite original and interesting. The label suggests is a "red semi-sweet" and "natural" wine, under "Ojaleshi" name. The company also states that the wine is produced since 1933 and is made of Ojaleshi grape, griwn in Orbeli, West Georgia (1700 meters above sea level)."
In conclusion, we will quote a paragraph from the work of Maxime Ramishvili - "Vines of Guria, Samegrelo and Achara": "Ojaleshi is the oldest grape variety known among red grapes of Samegrelo. Like past experience, it is used for making high quality red table wines. Based on the local researches and literature sources, it is proved that Ojaleshi is the oldest grape variety of Samegrelo and belongs to the varieties of Pontus area, following its botanical and agro-biological features. This is proved by its name - "Ojaleshi" as well, as mentioned by academician Ivane Javakhishvili – i.e. Megrelian term standing for height (tree) crawling kind of vine."
© Georgian Wine Club/vinoge.com
Tagged: