- Posted on Sun, 03/22/2015 - 22:11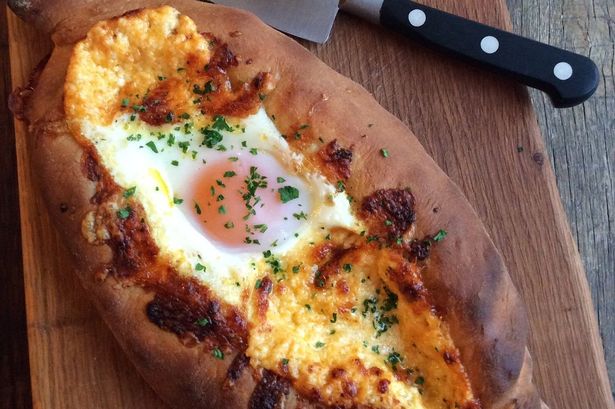 By Stephen Jackson
This week, we need our passports again, and, I'd imagine, all sorts of visas and whatnots, for we are travelling out of Europe, beyond the Greek coast, across the Black Sea, and touching down in Tbilisi.
We emerge, blinking, into the warm sun of Georgia. Situated in the Caucasus region at the border of Eastern Europe and Asia, that wide strip of land between the Black and Caspian seas, Georgia is a long-established independent state famous for its stunning mountains, spectacular coasts, and its food and wine.
Georgian wine is generally accepted to be the oldest in the world, and can be of exceptionally high quality after years of development and investment by European winemakers, the big deep reds especially.
The food is, as one would expect, a wonderful clash of styles, taking influences from the former Soviet Union to the north, Europe to the west and from neighbouring Western Asia.
On the coast, there is a good deal of simple fish cookery. There are many sausages, both fresh and cured. As with many countries in the Caucasus and Eastern Europe, skewered meats cooked over hot coals or flavoursome woods are very popular.
Mtsvadi involves larger pieces of meat being marinated overnight in wine and mild vinegar or fruit juice, along with tasty herbs, before being grilled on a barbecue known as a mangal, along with peppers and onions.
Some skewers are popularly served with another Georgian speciality, satsivi. Georgia is a large producer of walnuts, and this sauce, essentially a thick, smooth paste of walnuts and red wine, is similar to pesto. The famous Georgian dumplings, khinkali, are huge thick pouches filled with various meats, usually pork or beef, but occasionally lamb. They're made with a simple dough which is moulded around a seasoned raw meat filling and twisted to form beautiful ruched dumplings.
The twisted top of the dumplings isn't usually eaten, more used as a handle with which to scoff the filled part, which is juicy and tender.
What we're cooking today, though, is more of a street snack. The khachapuri is a standard bread, served all over the country, and often precedes a meal, but it has its regional adaptations, and it's one such adaptation that we're trying today.
Most often, khachapuri look like pizzas; flat, round golden breads, covered with melted cheese, but they can be layered up like lasagne, or folded into pillows like calzone pizzas. However, the one that caught my eye is the Acharulian version, from Adjara province the south of the country, where the border with Turkey lies.
I noticed a picture of one recently and instantly stopped to investigate. It just looked so delicious, I had to delve further. Essentially, the cheese-covered dough is rolled up in a special way, making a sort of boat shape, which is then filled with even more cheese and baked until golden, with an egg set on top just before serving, with a large knob of butter.
A friend of mine told me that a Georgian street vendor told him this is the most calorific food on the planet; it's easy to believe! Strangely, the supermarket didn't have any Georgian suluguni cheese, so I worked out an equivalent using three easy-to-find alternatives.
You can also play with any number of fillings, if you're feeling heretical – I think spinach would be marvellous underneath all that cheese.
INGREDIENTS:
1 tsp dry yeast
1/2 tsp unrefined golden caster sugar1 tbsp olive oil, plus more for greasing
200g plain flour, plus more for dusting
1tsp Maldon salt
100g grated red Leicester cheese
300g grated mild cheddar cheese
200g crumbled feta or ricotta cheese
2 large fresh free-range eggs
4 tbsp unsalted butter, diced
METHOD:
Sift the flour into a wide bowl. Combine the yeast, sugar, and 160ml lukewarm water in a jug, and let it stand until it becomes foamy, which usually takes about 10 minutes.
Add the olive oil to the yeasty water, along with the salt, and pour into the flour, quickly bringing the mixture together to form a soft but not sticky dough. You may add more flour if required. Transfer the dough to a well-floured work surface and knead briskly until it becomes smooth and elastic, which should take about 6-7 minutes.
Pop the dough in a lightly oiled bowl and cover with oiled clingfilm.
Sit the bowl in a warm place for about an hour, or until the dough is roughly doubled in size. Heat the oven to 240°C / Gas 9 and place a pizza stone or heavy metal tray on a middle shelf.
Combine the three cheeses in a bowl and set aside. Knock back the dough and divide it in half. On a well-floured surface, roll the halves of dough into 25cm-diameter circles, about ½ cm thick.
Spread about a quarter of the cheese mixture over each circle of dough, leaving a small border. On one side of each circle, carefully roll the dough about a third of the way toward the centre, tightly.
Repeat the process with the opposite side; there should be about 8cm space between the two rolled edges. Pinch the open ends of the rolls together and twist them around a couple of times to seal them, making a nice oval boat shape.
Divide the remaining cheese between the two breads, filling the central cavity. Transfer the breads carefully to the baking stone and bake until golden brown, 15-20 minutes.
Crack 2 eggs into a couple of teacups, and when the breads are just about ready, sizzling and bubbly, gently tip an egg into the centre of each boat. Return the breads to the oven until the egg white is just set, which takes about 3-4 minutes.
At the last minute, divide the diced butter between each bread and allow it to ooze and melt before serving straight away.
© examiner.co.uk
Tagged: