- Posted on Sun, 03/15/2015 - 01:12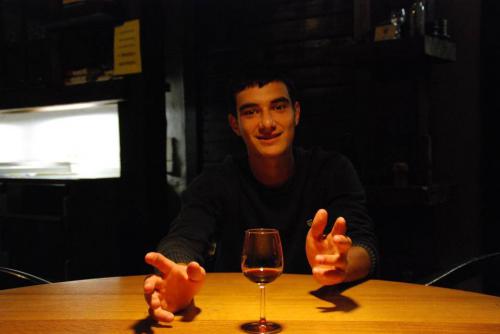 By Keto Ninidze
"Georgian Wine Club" launches a new line for its readers – "Wine Portraits". We plan to introduce you with interesting people, creating modern image and style of wine in Georgia. Winemakers of large companies, small or family cellars, including exemplary professionals from various generations shall be presented in this line.
Vano Shiukashvili is the first winemaker opening our new line.
Vano Shiukashvili is from Kakheti, village of Tsinandali. Being 24 years old, he is the youngest winemaker holding a leading job position among acting wine companies. Today, he represents "Corporation Kindzmarauli", as a chief winemaker already with two years experience on this position.
For a person born and grown in Kakheti, especially in Tsinandali, wine is linked with the family traditions. Besides, Vano's family members worked in various wine companies and he was well accustomed with the wine environment from the very childhood, where people were talking about wine and winemaking. First paid work also was associated with wine i.e. when he was spending his summer holidays as a child, he assisted workers at his mother's work place and received some remuneration for it. Though, it should be noted that there was no winemakers around him and he progressed his way independently in this field.
As it happens in every success story, in Vano's life as well, a positive character appeared in a very decisive moment, when he was choosing a future profession. That hero was Georg Binder – Head of the Winemaking Department of Vine-growing and Winemaking Research and Consulting Center, visiting Georgia at that time.
Georg Binder played a key role in determining future perspectives of a young and motivated individual, interested in winemaking. This is a moment that puts your life upside down or vice versa puts everything in its place. In 2007, he supported Vano to get enrolled at vine-growing – winemaking faculty of Neustad Institute of Gardening and Vine-growing.
Georg Binder diligently helped Vano, who didn't know the German language properly at that time and faced many difficulties at the initial stage of his foreign experience; he helped him not only in achieving success in his studies, as well as to manage number of domestic and personal issues. Vano's fellow students also helped him much, being from the families of local winemakers, sharing their experiences. Respectively, it was not difficult for our hero to achieve success and show high academic results. In 2010 he graduated the Institute, with the qualification of the winemaker.
Besides his theoretic knowledge he received in Germany, he also gained much practice in various wine enterprises. In different periods of his life, he practiced and worked in winemaking fields, in Germany and Austria, including governmental and private enterprises, State Wine Cellar of Neustad and Experimental Farms, Schäfer Wine Factory, Aigner Wine Factory Krems, Austria.
In 2010, Vano returned to Georgia and went on to work and study at the same time. He studied in Telavi State University, Agrarian University of Georgia and practiced in Chateau Mukhrani. Presently he is the MA student at Telavi University, being the chief winemaker of "Corporation Kindzmarauli" and member of Sampling State Commissions of Germany and Georgia at the same time.
Vano shows his great respect towards the winemaking traditions of Germany, its high standards of education, research, producing and consulting in general. He is especially inspired by Pfalz experience, he was personally introduced with. The village of Mussbach he lived, he describes as a tiny wine world, where each and every family breathed with vineyard and wine, not only inspirationally, but in terms of incomes as well.
Based on German experience, Vano is interested to establish corporations in Georgian villages, facing some difficulties at this stage.
"Winemaking is a lifestyle and then a profession, quest for novelties and first-hand participation in winemaking are major features of this field. To create good wine, you enjoy – is the major goal and philosophy of the winemaker". – says Vano Shiukashvili, young Georgian winemaker, planning to find financial resources to study in Germany, while his further plans refers to launching of own business in Georgia.
© Georgian Wine Club, National Wine Agency
Tagged: