- Posted on Sun, 04/06/2014 - 20:41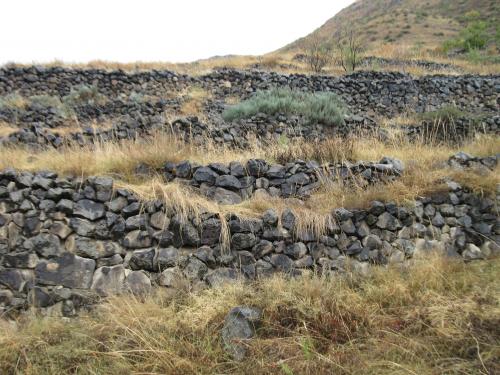 by Giorgi Barisashvili
There is a wide variety of vineyard soils in Georgia. In general, vineyard can be grown on any soil but the best product, or the wine can only produced on a special soil and most importantly, in case of special conditions available. One of such conditions, together with careful selection of vineyard soil and care, is an exposition of the vineyard. Truly, degree of slope of the vineyard, its direction, sunlight and wind movement plays critical role in terms of quality of the final product as well as strength of the vineyard itself.
Georgian viticulturists have long noticed that one of the best places for starting a vineyard is a mountain slope. Of course, it means a slope selected according to certain rules. As time passed, people also observed that vineyards on steep slopes were somewhat under a risk as heavy rains and water flows washed off or trenched the soil, resulting into frequent destruction of vine. Besides, it was difficult to start and care for vineyard on steep slopes, and such places, as a rule, remained uncultivated. It can be assumed that terrace viticulture or agriculture in general developed because of this reason. Building terraces on steep mountain slopes enabled people to cultivate new lands and areas, which, obviously, increased total volume of harvest as it included the volume of products produced on new areas. At the same time it turns out that on one hand, the risk of rain-caused erosion and on the other hand, trenching the soil has significantly reduced and almost disappeared. Terrace viticulture has placed vines on terraces in comparatively better conditions in terms of light, ventilation and maximum and efficient absorption of water. At the same time, some agricultural techniques were much easier to implement compared to vineyards located on steep slopes. Keeping in mind that by introducing terrace viticulture new and unoccupied lands were cultivated, it can be said that such direction of land cultivation has significantly increased the area of arable lands, which was an important step for the development of economic relations and trade under the conditions of low land areas.
Terrace viticulture was more or less used in all of Georgia, but this direction of agriculture was especially common in Meskheti region. Studies of numerous monuments of material culture show that this region was one of the prominent and cultural regions of Georgia during feudal times. Traditionally, Meskheti had the following local vine cultures: Samariobo, Kharistvala Meskhuri, Tskhenisdzudzu Tetri, Tetri Akhaltsikhuri, Kvari, Saparula, Tetri Budeshuri, Roketula, Chitiskvertskha Tetri, Tskhenisdzua Tetri, Meskhuri Mtsvane, Satsuri, Meskhuri Sapere, Klertmagara, etc. Procopius of Caesarea, Byzantine historian wrote in the 6th century that in Meskheti, in spite of rocky terrain of this community, locals had sufficient knowledge and experience and worked hard to cultivate orchards and vineyards, and had sufficient produce. In old Meskheti evidence of development of viticulture and wine-making is numerous wine qvevris and wine cellars that were discovered during excavations of villages and former settlements, not to mention exquisite and profound decorations of local temples with vine and grape ornaments, indicating rich viticulture traditions of this region.
Academician Ivane Javakhishvili notes that "severe mountainous landscapes of Shavshet-Klarjeti and lack of lands made our ancestors to start vineyards mainly on artificially inclined and limited soil on mountain slopes, referred to as "Oroko" in the past."
Such artificially inclined Orokos with stonewalls may have 50 and more stores, built on 200 meter height on steep slopes of the mountain. Such Orokos still have Meskhetian vine types, although rarely, and already wild, one or two per place. Together with terrace and ordinary, lowland vineyards, Meskheti often has Maglari (raised) vineyards, but unlike Guria-Ajara, in this region vine is grown on Chanchuri (variety of plum) and apricot trees, a great example of which is Muskhi village in Uraveli gorge, etc.
Terrace viticulture in Meskheti is mainly spread in Aspindza Municipality, along Mtkvari river. This area mainly has stonewall terraces, although there are many terraces without walls as well, meant for vineyards and orchards. In general, terraces of Meskheti differ by area and build, resulting from inclination and location of mountain slopes. In general, more inclined is the slope, there is a need for higher walls to build a terrace, while the area of the terrace is small. On the contrary, in case of less inclined slopes, each of the steps of the terrace has less area and can be supported by lower terrace as well.
There are three types of stonewall terraces in Meskheti, and each of them were referred to differently: Dariji (or Dareji), Sakve (or Sakvi) and Oroko. Sakve and Dariji terraces are built using the same principles, while Dariji is bigger than Sakve in area. Besides, Dariji is mainly located close to the river and is arranged on slopes with little elevation, while Sakves are mainly located on steep slopes and have high enough exposition.
As sources show, Darijis mostly had fruit trees. Maglari (raised) vineyards were also common for Darijis, meaning that vine grew on Chanchuri (variety of plum) and apricot trees, while Sakve was fully used for terrace viticulture. Meskheti terraces are mainly associated with two sectors of agriculture – viticulture and fruit-growing. This is what Dubois de Montperreux, a French traveller visiting Caucasus during the XIX century writes about this place: "In ancient times this region was flourishing, had extraordinary crafts and agriculture. Even in the rocks and woods, where human hand could reach out, channels were cut, which still cause a surprise. These places, arranged as staircases, had large stone fences to surround them, just like in Geneva and Neuchatel, and were covered with many orchards and vineyards.
Terrace viticulture in Georgia can be seen not only in Meskheti, but also in Ateni and Ksani gorges. These areas, of course, have more widely presented and maintained terraces. Small examples of terraces for viticulture are present in almost all regions engaged in viticulture and wine-making, including mountainous villages. A good example is Davati village of Dusheti municipality, located 1,200 meters above the sea level, still having orchard and vineyard terraces.
It should be mentioned that terrace viticulture was widely spread in Ateni gorge, which is indicated by especially large number of vineyard terraces in this area. Ateni gorge is a mountainous territory, which resulting into terrace construction. However, it should be noted that in this gorge we see not only terraces with stone walls, but also those without walls, but with platforms. In terms of vineyard terraces Ateni gorge is the only area in the whole Georgia where ancient vines are still present. However, there are small, fragmented terrace vineyards in Kakheti, Imereti, Meskheti, Guria and Ajara. Vineyard terraces in Ateni gorge are located in compact settlements as a complex together with dwelling houses, similar to Khertvisi village of Meskheti region. However, there are separate locations as well. Even though in Ateni gorge, which is about 35 meters long, terraces were used for orchards and vegetable gardens, these terraces are mainly used for vineyards and most importantly, were built for this initial purpose. The following vine types were grown here historically: Chinuri, Goruli Mtsvane, Tavkveti, Saperavi Atenis, Budeshuri, Shavkapito, etc.
Terrace viticulture was well-developed in Ksani gorge as well, and the most obvious examples are present in Tsakhvati village. Even though terrace viticulture along with terraces themselves are destructed in Tsakhvati due to time, but in spite of that, Georgian written sources, historic-ethnographic research serves as the evidence of the development of viticulture in these areas from ancient times. It should be mentioned that fields like qvevri-making and wine dish-making was widely spread in Tsakhvati as well. This, along with the fact that most of the population still have preserved wince cellars in their homes is an indication that viticulture and wine-making were well-developed sectors in Ksani gorge.
Terrace viticulture was developed in almost all regions of Georgia, while old remaining of terraces that were used for different agricultural crops like fruits, vegetables, grains are found all across Georgia, including mountainous regions.
Terrace constructions and platform areas were found in Meskhet-Javakheti, Erusheti, Ateni Gorge, Ksani Gorge, Truso Gorge, Ertso-Tianeti, Khevi, Gudamakari, Mtiuleti, Kartli, in Digomi area of Tbilisi, Kakheti, Ajara, Guria, Imereti, Samegrelo, Lore…
This most likely means that terrace agriculture has a huge history in Georgia, while terrace viticulture is, most obviously, the most developed direction, different from lowland, Maglari (raised) or olikhnari (vines being trained up tall stakes or low trees) viticulture and requires different and special experience of looking after wine as well as arrangemet of terraces with or without walls, which, on its hand, is conencted with thorough knowledge of local soils, common winds, use of rainwater for irrigation and defining degree of slope.
© Georgian Wine Club
Tagged: