- Posted on Wed, 07/30/2014 - 10:31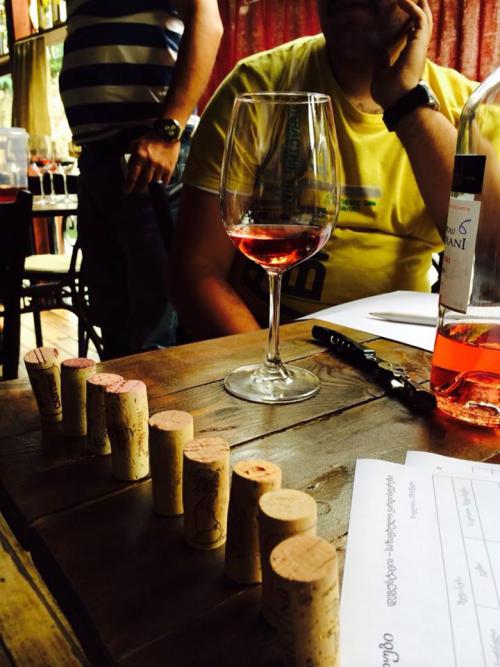 Rosé sampling at Wine Club
Levan Sebiskveradze
On July 5, one more wine sampling of Wine Club was held at Wine Bar "Konka", in old Tbilisi. Wine experts and lovers tasted Georgian Rosés at this time. As you may know, besides Wine Club members, any individual can attend such events and exactly such samplings show the status of the Georgian winemaking in different directions.
Rosés are called summer wines as well, as summer is the season when Rosés are mostly valued and tasted. Besides, as we know summer is the season of light salads, sea foods, etc which are the perfect match with the Rosés.
Wine Club tries to arrange specific wine samplings that is suitable for the given period of year. As we said Rosés are for Summer.
Guests at "Konka" tasted more than 10 types of Georgian Rosé and evaluated with relevant scoring system. Visual side of the wines (colour) with three scores (maximum score 3), aroma with seven scores system and samples with best taste was evaluated with 10 scores. In total, maximum score was 20.
It was not a competition, evaluating only aimed to introduce new wine lovers how to evaluate the wine. Thereby, it is very interesting to introduce with their views, how it matches with the quality and price of the sample and what they prefer.
The most pleasant novelties of the event was that almost all samples were fresh and only one sample from the presented wines was over-oxidated, having lost its freshness.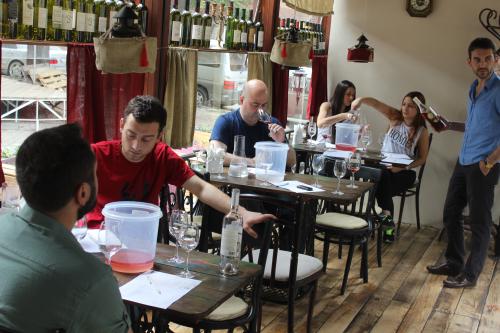 Makhaz Kharbedia, President of Wine Club, wine sampling host: "Wines presented for sampling today differ in style. Some of them are lighter and weak in colour, others are stronger in colour. Here you can find ruby-coloured wines as well. Following the rules of sampling, first we begin with lighter wines, ending with stronger wines. This rule applies when we plan to sample several types of wines, we never start with heavy ones. For example, if we sample Saperavi at first, then it is hard to taste lighter wines, like sparkling wines, white wines, we cannot feel the taste then."
People discussed the wine and strange, exceptional colour (less characterised for traditional wines) of the wine as well. Participants mentioned the example of classic French champagne, which mostly is made of red grape.
It is notable that, red grape is not red inside, even Saperavi grapes are not red inside. If we mash, some hybrid grapes, it could be red, though these types are not considered suitable for winemaking.
Sometimes it is said that, Saperavi Rosé is darker, then Tavkveri Rosé. This is not true, as the entire process depends on the winemaker, whether how long the winemaker leaves the wine, corresponding colour will be given. Colour of Rosés depends on the terms of chacha and wine interaction.
As you may know, for decades, producing of Rosés was forgotten in our country. "Telavi Wine Cellar" is one of the first companies that pioneered in producing Rosés in Georgia. Then it was followed by some major or minor cellars (Teliani Valley, Badagoni, etc) and presently, wine lovers can buy about 20 kinds of Rosés between 10-35 price range.
Rosés made from Gurian Chkhaveri (by LUKASI) and Tavkveri by Château Mukhrani were exceptionally appreciated by the guests. Though, each and every sampling was followed by discussions and sharing of impressions among the guests. Guests interested in blended winemaking methods and original technologies, were much interested in Rosé presented by the Company "Khareba", created by three types of grapes from Kakheti and Imereti: Otskhanian Sapere, Aladasturi and Saperavi.
At the end of the wine sampling, we asked the guests to share their impressions. Sometimes, their views were very different, and sometimes even contradictory. Though, considering the fact that some of the guests participated in wine sampling for the first time, evaluations were more emotional, then professional. Though, wine is the creation, where emotions often matter.
"Most of all, I liked Rosés of "Chelti," "Château Mukhrani," and "Okro Gvino." I preferred them because I strongly feel the influence of Kakheti region and it fully matches with my taste. "Château Mukhrani" perfectly shows Kartli notes and this makes Rosé more interesting. Aroma of Rosé by Lukasi was really different and catchy", shared his views for us on of the guests of the event.
Irakli Urushadze, participant of wine sampling: "I would like to underline Mukhrani Rosé, made of Takvkveri, where acidity and sugar is balanced, blended wine of nutmeg and "Saperavi- Rosé " by Badagoni and Chkhaveri- Rosé from Lukasi Company. And if I am with friends, I shall choose Rosé of "Chateau Mukhrani"."
At the end of wine sampling, Malkhaz Kharbedia, President of the Wine Club, shared his impressions as well.
"I would like to pick out two wines, Tavkveri of Château Mukhrani and Chkhaveri of LUKASI. I liked the taste of these wines, when we pour the wine into the wine glass, it should be seen that this is Rosé and presented wines are exceptional in this regard. When a man wants to drinking Saperavi (even in Summer when cooling of Saperavi is wrong) and wants to drinking cold wine, it can be replaced by Saperavi- Rosé of Chelti, though this delicious wine still is not a classical Rosé."
Sometimes you may buy white wine at the wine shop and it may turned to be very uninteresting having no taste, aroma or other features of the wine. Rosé is distinguished by its sustainable character, which perfectly matches with various dishes. From some point of view, these wines are universal, as a rule, Georgian white wines have various problem, sometimes they are oxidated or not very exceptional, thus Rosés are really progressive direction of our winemaking industry.
As we said above, only one sample was diseased at the wine sampling, which was over- oxidated and no faults were revealed (probably because of improper storing conditions). At the end of the wine sampling, guests marked that the wine sampling event will help them in selecting the wine and that their impressions and views around Rosés are totally changed.
Wine Club will continue to arrange the sessions of wine sampling, as it is one of the most important educational direction of the Club, presenting the reality of the Georgian winemaking most distinctly.
© Georgian Wine Club/vinoge.com
Tagged: