- Posted on Wed, 09/05/2012 - 01:02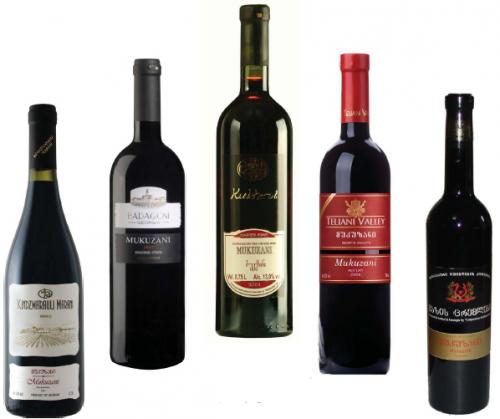 By Robert Taylor
You may have noticed it's an election year, not just here but around the world. Of all the recent campaigns, I was particularly captivated by the one in Russia. The return to power of Vladimir Putin—who remains a regular headliner in the news—got me thinking about the wines of the old Soviet Bloc.
The former U.S.S.R. once had a booming wine industry, much of it in what is now the Republic of Georgia. Even after Georgia declared independence in 1991, almost all of its wine was exported to Russia, but that ended
in 2006 when Russia placed an embargo on Georgian wine and mineral water
. Russia claimed the Georgian products were of such poor quality that they could no longer be accepted. However, the embargo also happened to coincide with Georgia's announced intentions to join NATO (which doesn't exactly always share Russian interests) and a 2006 espionage controversy, in which Georgia very publicly arrested four Russian officers and charged them with spying.
That all turned out to be a good thing for those of us who love undiscovered—and undervalued—wines.
The Republic of Georgia is home to the South Caucasus Valleys, an ancient home of domesticated Vitis vinifera vines and perhaps the world's oldest continuously operating wine region—archaeologists have unearthed clay vessels with wine residue dating back to 6,000 B.C. and a 6,000-year-old winemaking facility. Georgia (Colchis) is even cited in Apollonius of Rhodes' Argonautica, in which Jason finds "fountains of wine" there on his 14th-century B.C. quest for the Golden Fleece.
The Kakheti Province is home to Georgia's best vineyards, though wine quality has been spotty at best over the past century. Prior to independence in 1991, the wineries were Soviet state-run operations focusing on high-volume, semi-sweet red and white wines for the Russian market. "Georgian wine during Soviet time was very popular in the Soviet bloc, but largely due to lack of competition from global producers," said Dr. Alexander Kaffka, head of Artenom Georgia Consulting and founding editor of Hvino News, an English-language website covering the Georgian wine industry. "It was a mass-produced product, which in most cases meant that quantity prevailed over quality."
After independence, despite privatization, Georgian wine did not become better since, like many other industries, it suffered from disorientation, insufficient financing and a lack of regulation, Kaffka said. Russia's declaration of a sanitary embargo "was not completely groundless," he noted. "In the huge flow of what was marketed as 'Georgian wine' in the 1990s, surely there was a large amount of low quality and plain fake product."
But the 2006 embargo forced the Republic's wine industry to improve quality and seek out new markets, competing with—and hoping to join—the world's fine wine regions. Up to that point, more than 90 percent of its wine production had gone to Russia.
This adapt-or-die situation meant Georgians had to put serious investment into their vineyards and wineries and re-style their wines to appeal to the Western palate for dry whites and reds. None of Georgia's hundreds of native grape varieties has fit that bill better than Saperavi, a black grape whose Georgian language translation is "paint dye," for its extremely dark hue.
I recently tasted one of the best Georgian Saperavis I've tried yet. (I'll admit that I opened it with trepidation as quality still varies dramatically; I'd particularly warn against those sold in kitschy clay vessels.) The Teliani Valley Saperavi Kakheti 2008 comes from one of Georgia's best wineries, which was established in 1997 and has become a leader in modernization. With help from the European Bank of Reconstruction and Development, Teliani Valley built a new production facility in 2005. The basic Saperavi Kakheti is aged in oak barrels for three months; the Mukuzani subregion cuvée, which
Wine Spectator executive editor Thomas Matthews has enjoyed
, receives a year in barrel.
I was surprised by the 2008's smoothness, but the grape's cherry and plum flavors were as familiar as ever, as was this underappreciated wine's price tag: $11. I'd say rush to buy some Saperavi yourself, if anyone else seemed to be paying attention. At bargain prices, they're worth the search; U.S. imports of Georgian wine have increased, but only to more than 3,300 cases in 2011.
Other wineries and vineyards have shown similar improvements. After visiting many, "I'm very impressed with the way they are treating the vines," said Virginie Ajot, who consults for distributor Georgian Wine House and serves as the U.S. brand ambassador for Georgia's Château Mukhrani after working in the French wine industry for 20 years. "Most of the [Georgian] wineries I have visited are organic and sustainable; they try to use as little chemicals as possible and I think they are doing better and better every year."
But that growth could change now that Russia has concluded its 18-year negotiation with the World Trade Organization, becoming its 156th member on Aug. 22. Entrance to the WTO means that Russia will almost certainly lift its embargo on Georgian wine and mineral water (although perhaps not until after next year's parliamentary elections). The question now is whether Georgian winemakers will continue to upgrade their wines and pursue the Western market, or fall back on their previous moneymakers—high-yield vineyards and semi-sweet wine for Russia.
"Once the market opens, I'm pretty sure that all the leading producers will start selling to the Russian market," said Dr. Mamuka Tsereteli, a principal of Georgian Wine House and professor of Georgian-Russian studies at American University in Washington, D.C. "In my opinion, it will be right business decision. Question is, how to maintain quality. And there will be producers who will not focus on Russian market no matter what—smaller, boutique producers will focus on the Western market."
Kaffka, however, has a different take: "Some people suppose Georgian wine is still in high demand in Russia ... but it will be challenging, if not impossible, to regain the market share Georgians used to have in retail." He offered three reasons for that: Georgian wines are perceived as "the taste of the elderly," thus unappealing to Russia's younger generation; Georgian wines won't be cheap; and it will require an expensive re-education ad campaign to convince Russians that quality has improved. Kaffka concluded, "Things will not be changing quickly, that's for sure."
© 2012 Wine Spectator Online
Tagged: