- Posted on Fri, 10/17/2014 - 10:41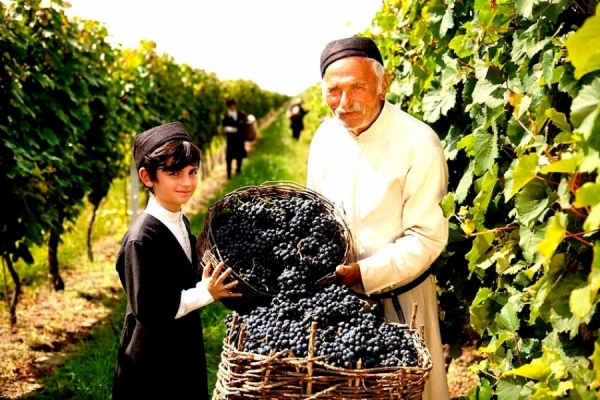 By Tornike Kajrishvili
Nobody knows when and how exactly the first grapevine was cultivated in Georgia, but earliest archeological evidence of viniculture that was discovered in Georgia dates back to 6,000 B.C. History of winemaking is tightly intertwined with history of Georgia, and our country is almost unanimously considered to be the birthplace of wine as such. In this country, tending to vineries, harvesting grapes and making wine is a tradition as old as the country itself. For centuries, it was passed from one generation to another.
RTVELI
In some regions of Georgia, harvested grapes are still crushed using a wooden basin called satsnakheli. This method is centuries old, and used to have a ritualistic meaning back in the day. But grapes need to be harvested before they can be crushed. In Georgia, the grape harvest is called rtveli. It begins in autumn, by the end of September, and lasts for several weeks. Naturally, the time of harvest is also dependent on the grape variety and weather. To be frank, grapes are harvested when they are ripe. Due to 80 percent of Georgia's vineyards being located in Kakheti, the eastern part of the country, this is the place where rtvelibegins. The name itself stems from ancient Georgian stveli, meaning "fruit harvest." Over time, "s" was replaced with "r" and the meaning was narrowed down to grapes, thus giving birth to "rtveli".
NikoTsabashvili is the most famous winemaker in the Sighnaghi region. When it comes to wine, this man is a living fountain of ancient knowledge.
NIKO TSABASHVILI, Kakhetian winemaker:
"Rtveli is a celebration of hard work, for which we prepare with diligence. On the day it begins, we invite relatives and neighbors to our vineyards, and the harvest starts early in the morning. Every guest visiting the vineyard wishes its host a "baraka" - a bountiful harvest.
We gather grapes either with bare hands or with special scissors; harvested grapes are then put into buckets to be taken away by car. As a rule, rtveli continues till nightfall. All the while, jugs, basins and other vessels in which wine is to be made and stored are being washed and cleaned. After all the grapes are crushed and squeezed out, the host family holds a feast to celebrate the end of the harvest. This is a tradition that will exist for millennia. For me personally, this year's rtveli was extremely plentiful – I gathered about three tons of grapes."
There exist more than 450 grape varieties in Georgia, with 62 of them included into the standard grape assortment list. Twenty-nine of these varieties are of the wine-making sort and nine are for table use.
Anzor Begiashvili, another well-known Kakhetian winemaker, has been tending to vineyards for 50 years now. His own vineyard has a large variety of grapes.
ANZOR BEGIASHVILI:
"I am 81 years old. When I was a boy, my parents would take me along to attend rtveli. The whole district was invited to our vineyard, singing as they worked – I remember this very vividly. It was a particularly happy time for us kids; this was the day when we met our relatives from Tbilisi, whom we rarely saw otherwise. There were songs, poetry contests, the exchange of news – happy, happy times. Can you even imagine what it was like? My parents put their heart and soul into growing the grapes, and we caressed every bunch as we harvested it so that not a single grape would fall to the ground – this was a well-known fact. Then we would fill a godori (a large basket made from tree branches) with grapes that we gathered, fill a horse-drawn cart with them and take them home.
Crushing the grapes was yet another ritual. The first godori had to be taken inside by father, to signify that the harvest was plentiful. Grapes were then crushed, squeezed out and the juice deposited into kvevrebi– large clay jugs for winemaking. Then it was time for a feast, with mtsvadi being an absolute necessity for the table. When there were several harvests simultaneously, the smell of mtsvadi, spit-roasted meat, would waft over the entire village…
Unfortunately, many traditions were lost over the years. To be more precise, modern technologies have changed a lot. Tending to grapes and crushing them is far easier now than it was before, rendering many associated rituals unnecessary."
Kakheti has already finished harvesting its grapes. Very soon, western parts of the country will be done with their grapes as well, and Rtveli2014 will be declared complete.
© georgianjournal.ge
Tagged: