- Posted on Sun, 03/22/2015 - 22:52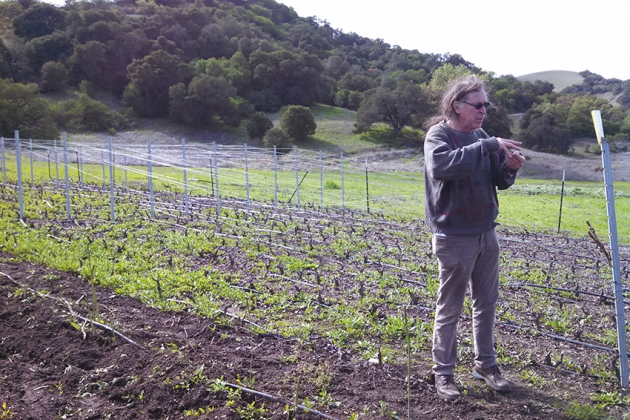 Winemaker Randall Grahm
A look at a trendy style
By Robert Joseph
I came across my first orange wine way back in the late 1980s, on a trip to Georgia with a group of British wine buyers. We had just finished sampling a set of traditional red wines in a picturesque monastery, when the monk who was conducting the tasting poured us each a glass of liquid that looked like very, very old Sauternes. I remember the look of surprise on my companion's faces when they saw the deep gold colour, and the downright shock when, after experiencing the dry, tannic, slightly bitter, and earthy yet weirdly fruity flavour. We were told that it was only three years old and had been drawn from a qvevri (amphora) set into the floor of the room where we were sitting. This, it was explained, was a style Georgian winemakers had been making for thousands of years. If we were to visit any of the farmers' houses we'd driven past that day, we'd find a qvevri full of skin-contact wine produced for the family's own consumption.
When we were asked if we thought there was a market for this style in Britain, the buyers, who represented a range of different kinds of retail and wholesale distributors, all laughed at the very idea. We were far from alone in thinking that this was an odd local tradition of little relevance or interest to anyone outside the region. Authoritative books like Jancis Robinson's Wine Companion and the 2005 edition of Tom Stevenson's Sotheby's Wine Encyclopaedia mentioned Orange in Australia and Orange River in South Africa but remained silent about Georgian skin-contact wines.
Yet, 25 years later, there are skin-contact wines of one style or another produced in almost every significant winemaking nation. Top London restaurants that don't include orange wines on their lists seem to be in a minority; consumer magazines publish features on the style, and if you type 'orange wine skin contact' into Google, the search engine boasts of having found some 25m results.
For all the noise, however, it is hard to establish just how much of this wine there really is. While admitting that vinous statistics in her country are not as comprehensive as they might be, Tina Kezeli, executive director of the Georgian Wine Association, estimates that production of commercial orange wine – as opposed to wine made for family consumption – is unlikely to exceed 250,000 bottles, out of a total of 50m. Most of these are consumed either in Georgia or its biggest market, Russia, limiting the number that are likely to be seen in the US or Western Europe.
A very long history
So how did orange wine gain such a remarkable following? Despite its long history in Georgia, the current flame of enthusiasm for skin-fermentation was lit in Italy. Old traditions like ageing on straw mats and Ripasso – refermenting new wine on skins and lees from another vat – have survived in Italy over the centuries, as did some skin contact winemaking in the north-east, where the border between Friuli and Primorska in Western Slovenia runs invisibly between the vineyards.
It was here in the 1990s that Josko Gravner – a producer in the little town of Oslavia, with vines on both sides of the border – gradually moved from stainless steel back to wood and then on to a Georgian qvevri given to him by a friend. "I was looking for a way to make wine where I didn't have to change something all the time," he told Eric Asimov of The New York Times. Gravner's enthusiasm for low-intervention wine using ancient techniques was shared by a group of his neighbours and friends, including Stanko Radikon, Edi Kante, and Giorgio and Nicolò Bensa of La Castellada. Gravner's 'anfora' wines made from the local Ribolla, Pinot Grigio and (in the case of his Breg) a blend of Sauvignon, Chardonnay, Pinot Grigio and Riesling Italico, now command prices of up to $100.00 per bottle in the US, competing with some of the costliest whites on the shelves. Producers in other parts of Italy have embraced the style, most notably including La Stoppa in Emilia-Romagna, whose deeply coloured Ageno was described by UK wine writer and orange wine enthusiast Jamie Goode as "extreme", "full-on" and "challenging".
Slovenia and Croatia have both spawned several high-profile wine producers, while an American painter called John Wurdeman has worked hard to promote exports of his uncompromising Georgian brand, Pheasant's Tears. Other Georgian wineries that are benefitting from the wine boom include Tbilvino, which has been successfully selling an own-label skin-contact wine called Qvevris to the UK retail chain Marks & Spencer.
When is it an orange wine?
The issue of how skin-contact wine should be described is controversial, as there are four ways to produce wines called 'orange'. First, there are the skin-fermented and macerated, amber-hued wines with which every self-respecting hipster sommelier and natural wine fan are now familiar. Then there are the Andalusian Spanish whites traditionally made by macerating orange peel in sweet white wine. There are, of course, fruit wines made from fermented orange juice, as sold by American producers like Florida Orange Groves Winery. Finally, there is the red, white and pink wine produced by some three- dozen producers in the 30-year-old Orange region of New South Wales in Australia.
The Australians have moved to clarify the issue to avoid consumer confusion. In February 2014 the regulatory services general manager of Wine Australia, Steve Guy, issued a statement to Australian producers, saying: "It is an offence under the Wine Australia Corporation Act to include the geographical indication 'Orange' in the description and presentation of wine when the wine does not originate in the indicated region." He advised that producers had to make the context extremely clear, by using – for example – the term "wine of orange hue".
As it happens, there are many ways to describe the wines: the label of Marks & Spencer's Qvevris uses 'Amber', a term that is traditionally used in Georgia; the high-profile Australian winery Turkey Flat now offers the rather clunkily labeled '5 Month Skin Contact Roussanne' from the Barossa Valley.
Will consumers like it?
Australia isn't the only New World country where the style is spreading. The best-known US skin-contact producer is probably Channing Daughters on Long Island which almost certainly benefits from the enthusiasm for this style among sommeliers and specialist retailers in nearby Manhattan. Prominent New York sommeliers like Levi Dalton think skin-contact wines can be "indispensable" food matches, thanks to their intrinsic tannins and savoury flavours.
Gerard Basset MW, the widely travelled 2010 Meilleur Sommelier du Monde, however, feels that some of the enthusiasm is driven by a need for something new and different. "I also think that they are part of a rebellion against the style – and price – of wines that have been so successfully promoted by the Wine Advocate and Wine Spectator."Basset is not a fan of skin-contact wines. "I've tasted many of them and liked a few. But while I still have some natural wines [on the list of my wine-focused Terravina hotel restaurant], there are no longer any orange wines. It was very difficult persuading customers to buy them. There are some enthusiasts, but not enough."
The argument between enthusiasts and non-enthusiasts is muddied by the variation between examples of the style. Most Georgians may still use qvevris but some modern producers happily skin-ferment and mature white wine in concrete tanks, while others use old – and even new – oak barrels and stainless steel. Georgian tradition is to include the stems as well as the juice and skins; many modern winemakers there and elsewhere now omit them. Instead of the relatively non-aromatic Rkatsateli with which Georgian qvevri wines are associated, successful orange wines in other countries are made from floral varieties like Ribolla Gialla and Malvasia and, in the case of Josko Gravner's Breg, from a blend that includes Sauvignon Blanc and Chardonnay. Crucially, the period that the wine remains on its skins varies from a few days – the time required for fermentation – to several years, for those bowing to Georgian tradition. Filtration is generally frowned upon, but in Russia, the biggest market for Georgian orange wine, cloudy examples are less well received.
Finally, there is the choice of whether or not to add SO2. The presence of the skins is naturally reductive, so the need for significant sulphur is low, and supporters of the style say that, like Madeira, this is one of the few wines that does not deteriorate during the days after it is opened. The parallel with the deliberately oxidised Madeira is appropriate; one of the characteristics of many orange wines is a significant level of volatile acidity that some find attractive. Others disagree: as the iconoclastic Californian winemaker Randall Grahm says, "The trouble is that most orange winemakers try to be very hands-off in their winemaking – OK too hands off for some. To quote an old enology teacher: 'Grape juice left alone turns into vinegar."
Some hands-off producers rely on the ancient technique of coating the interior of their qvevris with beeswax, but respected Georgian winemakers like Dr Giorgi Dakishvili of the Schuchmann winery say that the periods these pots are left empty makes them perfect incubators for bacteria. "Mould can develop in days. We paint the surfaces with lime and sometimes citric acid, and coat them with ash. It's hard work!" Nicholas Jones winemaker at Wines of Momentary Destination in Australia, says: "If you have some very good grapes and can use science to seize control of skin contact and oxygen, you can make some good wines. Although these are few and far between. 'Tis a dark art....or a dark science!"
Ever-ready to experiment with new styles, Grahm produced a skin-contact Gewürztraminer in 2011. "The finished wine was very coloured, deadly aromatic, slightly phenolic and quite interesting… to wine freaks like me!" He went on to say, however, that: "Great, interesting wine should generate conversations but, commercially, it is a disaster waiting to happen. So since we're a disciplined winemaking team, we decided to blend away the lot into our Gewürztraminer blend."
© meininger.de
Tagged: