- Posted on Wed, 03/18/2009 - 22:12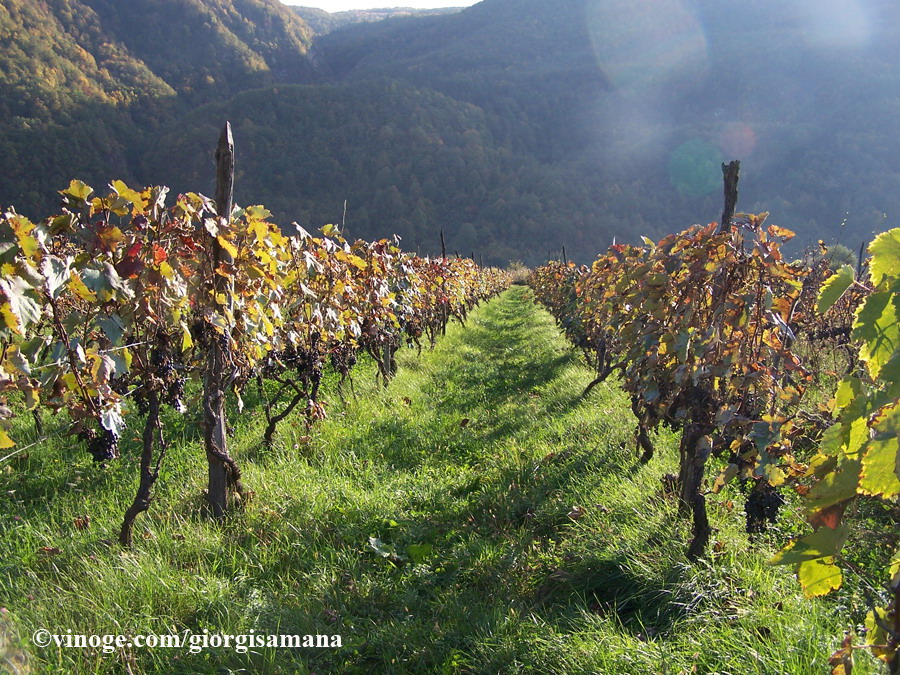 Racha-Lechkhumi is blessed with some of the most diverse and beautiful wine-growing landscapes in the country but compared to Kakheti, its territories allocated to the vineyards cover only 1600 hectares. Located in the northern part of Georgia, on the slopes of the picturesque Caucasus Mountains, the region is known for exquisite grapes and incredible wines. The grape varieties here are all indigenous and include such marvels as Tsulukidze Tetra, Tsolikouri, Aleksandrouli, Mujuretuli, Rachuli Dzelshavi, Usaklelauri and Orbeluri to name the few. Among the rare varieties the most significant are Tetri Aleksandrouli, Arabeuli, Tkhmorula, Kapistoni, Kudurauli, Mokaturi, Rachuli Mtsivani, Nakutvneuli, Rachuli Mtsvane, Natsara, Sakmevela, Rachuli Khihvi, Khopaturi and Khoteuri.
When talking about the region, we must distinguish its two, Racha and Lechkhumi, provinces. Racha encompasses the bigger section of Ambrolauri and Oni districts. The vineyards here are grown mostly on the slopes of River Rioni gorge. The lower Racha is renowned for Khvanchkara micro-zone. It takes the territory between villages Tsesi and Qvishara and encompasses the area of the villages Sadmeli, Ghviara, Bostana, Didi Chorjo, Patara Chorjo, Meore Tola, Pirveli Tola, and Chrebalo. The vineyards of Lechkhumi are located in the gorges of rivers Rioni, Lajanuri and Tskhenistskhali. Main micro-zones are: Zubi-Okureshi, Tsageri, Orbeli and Alpana-Tvishi. Historically, Khvanchkara, Alpana-Tvishi and Zubi-OKureshi had been regarded as the principal micro-zones in the region.
With its unique "sense of place" Racha-Lechkhumi is a region where wine grapes have an amazing ability to draw flavors from the soil, climate, and location. Racha-Lechkhumi is inseparable from the semi-sweet "Khvanchkara" wine produced from 1932. "Khvanchkara" was known as "Khipiani Family Wine" in the 19th century and it was compared to the wines of the Burgundy by the experts. It is a blend of Aleksandrouli and Mujuretuli grape varieties. Previously, it was acceptable to blend four grape varieties for making "Khvanchkara" and some winemakers still do it by blending Tavkveri and Ojaleshi grapes with the dominant Aleksandrouli and Mujuretuli. In Khvanchkara micro-zone, winemakers usually harvest grapes when sugar level reaches 23%. Aleksandrouli grape variety harvested in the same micro-zone makes some great dry wines too. Among the most notable in Lechkhumi are "Tvishi" made from Tsolikouri grapes and the rarest Georgian wine "Usakhelouri."
As in Kakheti, traditional winemaking in Racha-Lechkhumi presupposes Kvevri called Churi by the locals. The juice that gets into Churi usually gets back to the presses and remains there with stones and skin before first round of fermentation is over. After two days, the juice is sent back to Churi where it undergoes the complete fermentation with an occasional but meticulously planned stirring. When the fermentation is over the wine remains sealed in Churi with stones and skins till spring.
© MKh/ vinoge.com
Tagged: