- Posted on Fri, 09/04/2015 - 15:22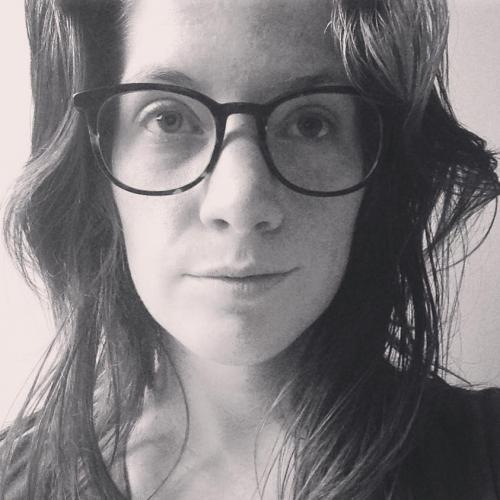 Monday
August 24, 2015
I'm sitting in the middle of a pile of receipts, trying to calculate our film's spending for the past week and a half. We spent a few days in Racha, filming Mariam Iosebidze, a new winemaker who is hoping to revitalize her family's land. She took us to visit other producers in the area who make great wines, yet don't bottle for sale (something unheard of in the American market).
It's been two months living in Tbilisi, traveling like this. A day in Kakheti, a day in Guria, then Batumi, then Akhaltsikhe, and home. A whirlwind to say the least. The weather is just one of the many things that affects our plans. This week the hail in Kakheti and a broken part on the equipment used to install qvevri into the ground halted our plans.
Despite the ups and downs of not knowing when we can film, something spontaneous always comes up. Tomorrow we film the qvevri-maker Zaliko in Imereti. I'm very excited to spend a day with him as he molds new qvevri.
It's an early start tomorrow, so off to finish these receipt reconciliations.

Tuesday
August 25, 2015
We packed up our rental car with film gear and picked up our new friend Johnny, a film student at the University here. We drove to Imereti to meet with Zaliko, the famous qvevri-maker. It was a beautiful day. The air was clean after the rain, and the sky was clear.
We arrived at Zaliko's ready to film. Of course we couldn't get started until after Zaliko and his sons tried to coerce us into drinking wine and whiskey for breakfast. We were hoping to film Zaliko work clay with his hands, but their task for the day was to move 3 large qvevri from his studio space to the kiln to prepare for the fire. After an hour or two one qvevri was moved. Sometimes filming can become very mundane. We wanted to wait for something more cinematic to happen, but also didn't want to disturb their work. We took a lunch break and returned by the time they finished the third qvevri. Zaliko then agreed to mold clay into qvevri for us. And man! What an amazing experience. His feet shuffle in a rhythm like the sound of a ticking clock. In 10 minutes he finished one small qvevri. I was blown away by the perfect symmetrical shape he creates, and it's all done by hand.
When you're around Zaliko, you can sense his intuition and sensibility. He feels things. When he looks in your eye, he perceives more than most people's gaze. It was an incredible day to spend with such a man.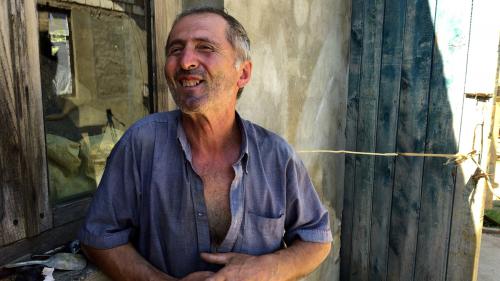 Zaliko Bojadze, qvevri-maker
Wednesday
August 26, 2015
After a long day of filming yesterday, I got back to our Tbilisi apartment to upload footage, took a nap for a few hours, and woke up at 3 AM to pick up our dear friends who were also our wine colleagues back in Chicago. We prepared late-night/early-morning Khinkali for them and shared delicious Georgian wines with them until 8 in the morning. It was so exciting to share new tastes with them. We started with Vincent's sparkling wine, then Zaza Gagua's Ojaleshi rosé, Zurab's chkhaveri rosé, Zaza D's Khikhvi, Kakha Berishvili's saperavi, and Pheasant's Tear's chacha.
We slept for a few hours, then took them around the town. I left my film equipment at home today. I wanted to enjoy the city without lugging around gear. It's often a hard decision to know when to bring the camera and audio equipment with us. Sometimes moments come up and we don't have sound equipment, and miss something important. That is always a risk with documentary. But today was a day of rest for us. Resting turned into a late night dance party at Vino Underground. A favorite spot of ours and an instantly favorite spot of our friend's.
Thursday
August 27, 2015
Today we showed our friends Kakheti. They are here to learn about wine, and we needed to get some filming done as well. We started the morning at one of my favorite saperavi-maker's, Kakha Berishvili in Artana. The bee hives, the hippie-like commune feel to his yard, the vines, his delicious wines. It was great.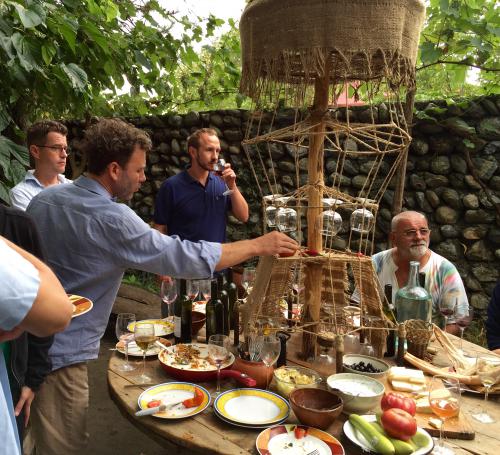 Kakha sits and shares food and his wines from Artana
We rushed to the next appointment, since we had a late departure that morning. (Too much dancing). We stopped at Soliko's to taste his "Our Wine" rkatsiteli. This was my first visit to Soliko 's. From what I hear, he's the 'sensei' to other natural winemakers here. He practices biodynamics, and guides other winemakers to find more natural methods when working in the vines.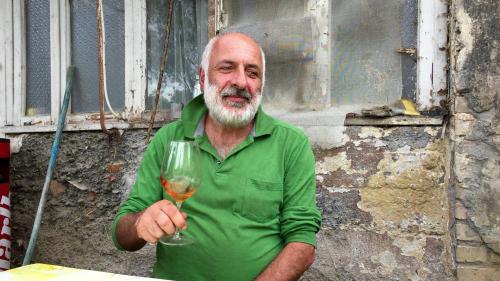 Soliko sharing a glass with us
We ended the night with John Wurdeman at Pheasant's Tears. The restaurant was closed, but he graciously invited us for a meal cooked by him and his wife, Ketevan. We tasted through bottles and bottles of Pheasant's Tears wines, including a vertical tasting of rkatsiteli. It was unforgettable.
We all passed out in the car ride home.
Friday
August 28, 2015
Another early morning start. We hoped to visit Saguramo, but it was closed. So we continued onto Ateni to visit with Nika Vacheishvili. His wife, Diana, prepared an amazing meal. We drank his beautifully nuanced wines: chinuri, goruli mtsvane, and his khidistauri—the wine that he and Jeremy made last year for the first time.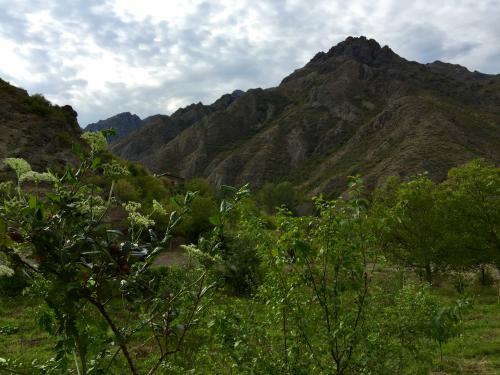 The view from Nika's marani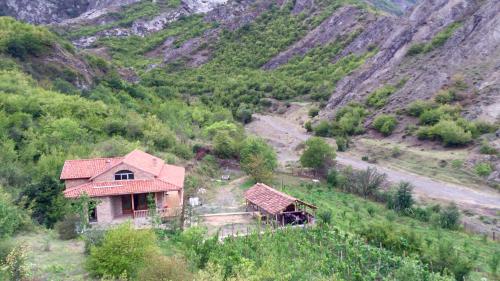 Nika's newly built marani
Ateni gives you a spirit of adventure. We decided to walk barefoot across the river to the car. I slipped on a rock while carrying the gear. It was so stupid. I should've passed off the gear. I got a few cuts on my feet, but immediately rushed to the other side of the river to open up the gear bags and make sure all the footage and equipment was okay. It was.
So we made our way to Akhaltsikhe, where we met with Giorgi Natenadze who will be our host for the next two days. We settled into our guest house, then shared his wines. We visited him 3 weeks earlier, but felt we needed to come back again. Giorgi is the Indiana Jones of the wine world.
Saturday
August 29, 2015
We visited Giorgi's ancient terraces. A place we were all excited to see. Our friends had traveled to Portugal, Germany, France, Italy, to visit vines. This land was exciting. This was ancient, without any vines on them currently. Giorgi is planning to plant native varietals to Meskheti on these terraces this fall. And we hope to be back again to visit them.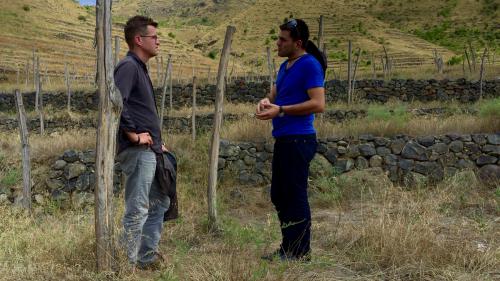 Giorgi and Jeremy discuss the new terrace project that Giorgi plans to start this fall
We went to the Vardzia caves to film the qvevri rooms, which of course is beautiful. But Chachkari is what peaked my interest. This is the small village just below Vardzia which supplied the elite with wine and food. This village has a sadness to it; a leftover feeling of the class system which is still occurring. Just around the corner tourists are coming to Vardzia, yet Chachkari with its many wine presses and caves is quickly being destroyed. People are coming in with a tractor and cutting down their trees, offering to pay 200 lari for a huge tree. This village still has one of Giorgi's 400 year old vines which climbs a large tree. The tractor has destroyed ancient terraces which rest here, as well as the road throughout the village. For me, this has been the hardest place to see. There are so many positive things about our travels and explorations. We see that the village life is dying, as people flee to the cities to work. This strong eco-system will soon be gone if people sell all their trees.
It is Giorgi's dream to revitalize this village, and make it a place that tourists would want to visit. My favorite thing about being around Giorgi is his huge ideas. He sees the troubles and hardships around him, and yet his dreams are bigger. He sees solutions to the problems.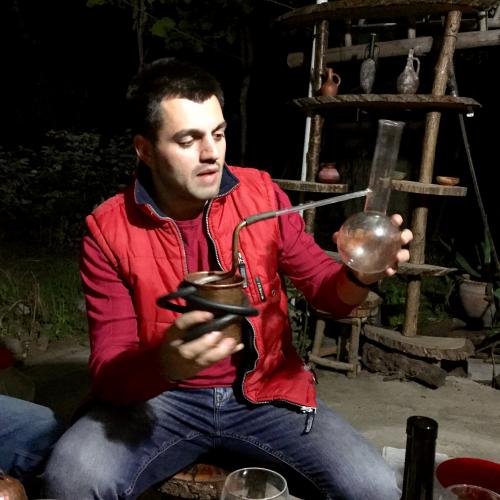 Giorgi Natenadze and a mini version of a pot still used for eau de vie
Sunday
August 30, 2015
We stayed at the Vardzia Resort Hotel in a large room that housed all five of us. We enjoyed a leisurely morning before getting on the road to see more sights of Meskheti. We filmed the ancient remnants of the castle at Saro, which dates back to the pyramids in Egypt. We then stopped for a lunch at Giorgi's house in Akhaltsikhe. He knew we loved the famous Meskhetian dish that his mother made us last time, so he arranged for me to film his mother, wife and sister-in-law as they prepared fresh pasta by hand.
After a great few days with Giorgi, we were back on the road. 5 hours in traffic to make it back to Tbilisi. Our friends leave in the morning. They wanted their last night to be spent at Vino Underground, so of course we obliged.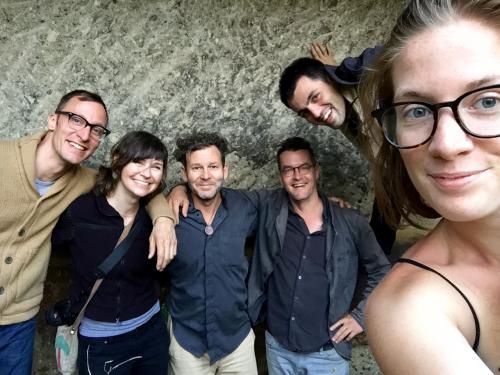 Our American wine friends, Jeremy, myself & Giorgi Natenadze
© Emily Railsback, Georgian Wine Club, Wine Information Centre
Tagged: