- Posted on Sat, 05/31/2014 - 21:16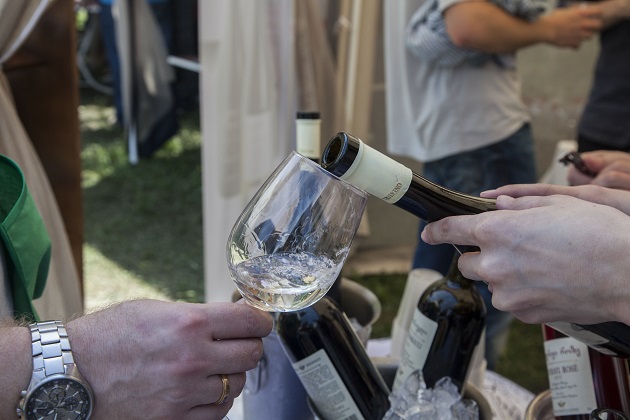 By Tamar Khurtsia
For the fifth time in recent years, the Ethnographic Museum's picturesque outdoor garden was transformed into a place where a full array of wines from all over Georgia represented by Georgia's leading wine companies, family wine cellars and boutique wine makers.
Earlier this month, the museum's outdoor venue was the place where the annual New Wine Festival was held.
The annual festival is one of a handful of free events in Tbilisi, where patrons can enjoy a day out for free – the wine is free and Georgian winemakers proudly pour their creations into revelers' glasses.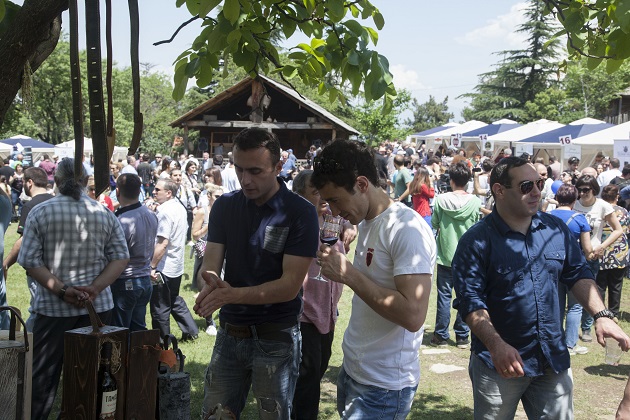 Local winemaker Giga Loladze flocked to Tbilisi from Chailuri, a village in Georgia's wine producing region Kakheti, armed with his family's signature wine - Muscat Rkatsiteli. His creation is the oldest domesticated white wine variety and has a pronounced sweet floral aroma.
More than fifty years ago, Loladze's grandfather planted the Muscat Rkatsiteli grape variety in Chalauri. The vineyard was passed down from generation to generation, father to son, and eventually, Loladze inherited his grandfathers' crop.
"Before receiving the invitation to attend the Wine Festival, I never thought that my Muscat Rkatsiteli wine would gain so much praise from the visitors. I knew it was a good wine and now others can appreciate it too," he said while presenting his wine with passion, energy and enthusiasm.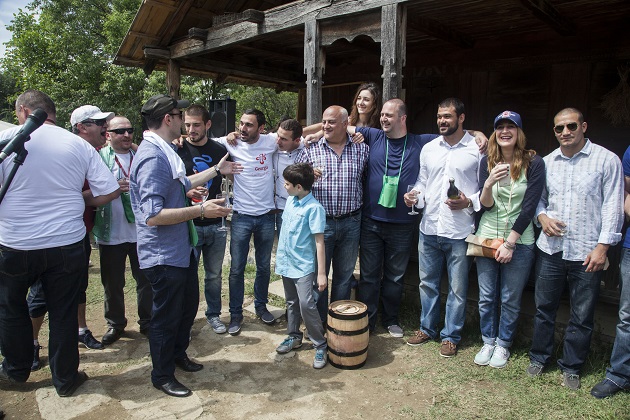 "I have even made some money, I have sold some bottles."
The wine festival encouraged Loladze to think about turning his family wine cellar into a commercial business.
"I plan to buy land near my orchard in Chalauri and plant Muscat Rkatsiteli. Believe it will grow and become my family business," Loladze said.
Another producer of homemade wine was Luka Bibineishvili, who had travelled to the capital city from Adjara, the Black Sea region of Georgia. Throughout the festival he dressed in national costumes to promote Chkhaveri, his creation of a semi-sweet Rose wine.
"Adjara is one of the oldest centers of viticulture and enology and I would like to keep this tradition. On the label of the bottle I made an inscription in local provincial dialect, Aia Iii, which means this is what you are looking for," Bibineishvili said.
He used the picture of his ancestors as a logo on the bottle's label.
In front of Bibileishvili's tasting station, president of the Georgian Wine Club and organiser of the New Wine Festival, Malkhaz Kharbedia, made a small speech to congratulate local winemakers for taking part in the festival.
He said through the festival, local winemakers could promote their products, generate awareness and create an opportunity for family wine cellars to compete in the larger wine industry.
"It is a golden era in Georgian wine as every wine producer, from large companies to boutique winemakers, will find their niche. You will find a buyer if you make a good wine," Kharbedia said.
He believed Georgia's major wine companies often had the opportunity to show their wines in public venues, while family winemakers had less of an opportunity to do so.
"This opportunity means it is very appealing to family winemakers and at the festival, guests can sample new 2013 wines," Kharbedia added.
Homemade wine Atenuri - made by family winemaker Gigo Dvalishvili, had the special honour to open the New Wine Festival alongside Georgia's Parliament Speaker David Usupashvili.
"Only my villagers know about my wine [so] it is funny that even the Parliament Speaker has tasted it," Dvalishvili said while waiting for the qvevri uncorking ceremony with eagerness and anticipation.
Atenuri wine made by Goruli Mtsvane and Chinuri grape varieties in Gori, eastern Georgia, was specially poured in qvevri, a large earthenware vessel originally from Georgia which was buried in the Ethnographic Museum's yard.
Usupashvili uncorked the qvevri and traditionally said: "Abundance, abundance. It is a sun, it is a sun." It is local tradition to praise wine while pouring the first glass from orshimo, a long-handled gourd to ladle wine from a qvevri.
The very first toast was made by Parliament Speaker, who said: "Georgian wine has had unique achievements in the world and it has to maintain its high quality and everyone have to take care of it."
For people who loved to try new things, a local winemaker of Kakheti offered guests the chance to taste something new. Naniko Ratianidze, who represented Kakheti Traditional Winemaking, offered guests a glass of Riesling – a white aromatic grape variety displaying flowery, almost perfumed aromas as well as high acidity.
Canadian tourist Sara Thirnbeck was advised to taste the homemade wine by Solomon Tetrashvili in Georgia's capital city Tbilisi.
"I believe only in the capital city of Georgia you could see wines. But it does not sound strange when you recognize that Georgia is the cradle of wine," Thirnbeck said.
The wine festival in Georgia would not be complete without a smoky barbecue, called Mtsvadi (roast meat), and accompanying bread, called "Dedas Puri" (mother's bread).
While this year's festival has passed, make a note for your diary for next year's May event, as the occasion is one you do not want to miss.
© agenda.ge
Photos by Nino Alavidze/agenda.ge
Tagged: