- Posted on Sat, 05/31/2014 - 21:01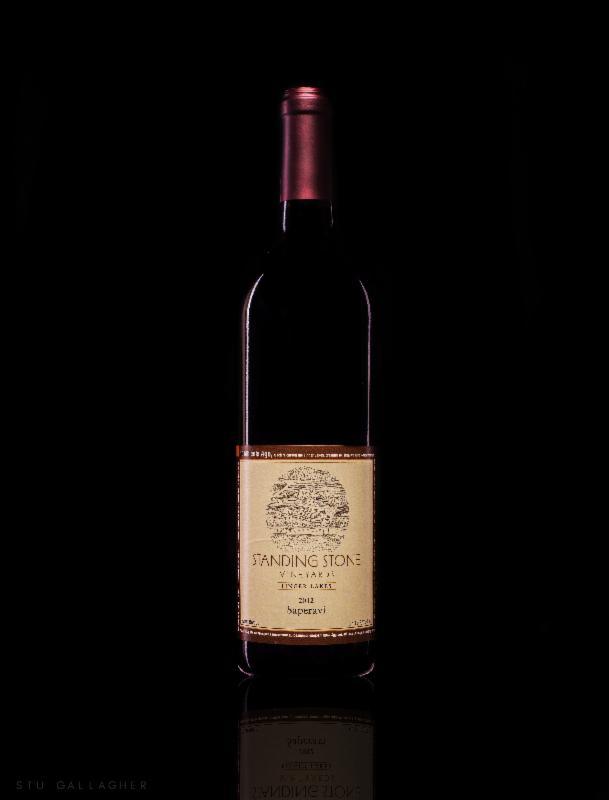 by Seneca Daily News
Winery first in the nation to bottle this newly recognized grape under their new branding using its rightful name.
(Hector, New York) - Standing Stone Vineyards is pleased to release their first ever Saperavi. The 2012 vintage debuts with the winery's newly redesigned label and features the grape's official name on the label.
"We've been growing Saperavi for 20 years," admits winery owner Marti Macinski, who has a particular fondness for this cold climate red grape that originated in Georgia. "And we've been using it in blends and bottling it under different names. But now that Saperavi is again an officially recognized grape, we are thrilled to be able to put it on our label. And I've got to tell you this 2012 vintage is unbelievable. The vines have really grown to maturity and we have 20 years experience of working with the grape and understanding how to bring out its best characteristics in the bottle."
Again? In the mid-90s, the federal Alcohol and Tobacco Tax and Trade Bureau, cleaned up the list of approved grape names. While it is not clear that Saperavi was ever on the approved list of grape varieties before the cleanup, it was not there afterward. "So from that point on, we could not call our Saperavi wine Saperavi. We labelled it as The Dark Red in 2010, and before that we had small quantities of Saperavi for experimental use and analysis only."
The solution was to file a petition setting out clearly the history of the grape variety, it's origin, and use in winemaking. With support from Dr. Konstantin Frank Vinifera Wine Cellars, we filed the petition in late December. We were delighted to learn that our petition was approved on January 23.
"What's so exciting about this grape is that it really has a wide implication of usage. Some grapes only grow well in the Finger Lakes' banana belt, like a Cabernet Sauvignon or Merlot. But we think this grape will be able to grow well everywhere Riesling thrives," Marti goes on to point out.
"And consumers have had an excellent reaction to this red. When they taste it, it truly is a blind tasting. They have no context, nothing to compare it to. They are not trying to put it in a box, like a Napa Cab or a Oregon style Pinot Noir. Yet they love its deep red, inky color, structure and texture. It's chewy and rich, but not aggressively tannic. It could easily become a signature Finger Lakes red."
Standing Stone Vineyards is the first winery in the US to bring Saperavi to market, with the 2012 vintage already on the shelf at the winery and in their distributor's hands. The new label that adorns the bottle is a result of a year-long brand exploration that is complete just as the winery goes into its twenty first year of production under Marti and her husband Tom's watchful eyes.
"We wanted a look that really harkened to our love of and respect for the land," Marti says almost reverently. "The wines we make are a result of a process that, for us, starts in the earth, not a lab. We can't wait for more people to try this 20 year labor of love, and really taste the difference that stems from our philosophy.
Macinski went on to say that the Saperavi vintages get better with every passing year. The winery has plans to do a 2013 Reserve Saperavi to commemorate the winery's anniversary and the vines twentieth birthday.
About Standing Stone Vineyards:
Standing Stone Vineyards is a family-operated estate winery located on Route 414 along the east shore of Seneca Lake in the town of Hector, in the wine growing area often referred to as the "Banana Belt." The historic vineyards were purchased in 1991 by Tom and Marti Macinski with the belief that the Finger Lakes could produce world-class wines, and they wanted to be part of the young wine region's development. The Macinskis dedicated the early years to making great Rieslings and Gewürztraminers, believing that those two varieties truly belong in the Finger Lakes. As their knowledge and love of the land grew, so did their wine selection. In addition to perfectly crafted whites, the winery has gone on to develop some of the finest, most distinctive reds in the Finger Lakes. True students of the terroir, the Macinskis consider themselves farmers first, stating that winemaking starts in the earth, not at the vine. Standing Stone's tasting room is open seven days a week year-round, and the winery offers Case Club and Wine Club membership, as well as their Barrel Owners program. For more information on the winery, their wines and their programs, go to www.standingstonewines.com or follow Standing Stone Vineyards on Facebook.
© senecadaily.com
Tagged: