- Posted on Sat, 03/06/2010 - 11:58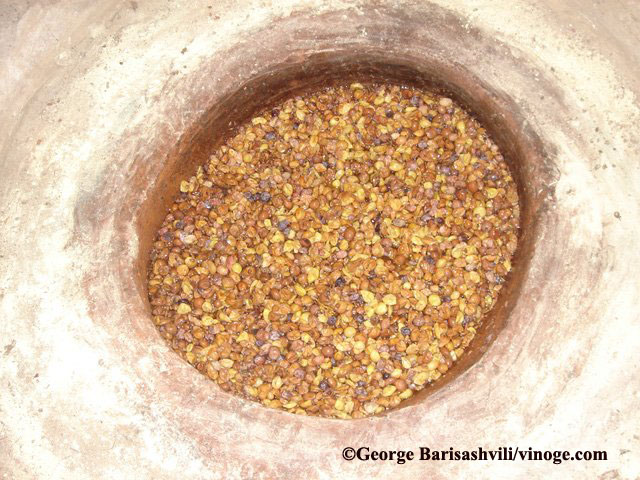 Rkatsiteli, from Georgia, rewards those who keep an open palate; 'it's not exactly fresh'
By LAWRENCE OSBORNE
One night in Tblisi, the capital of the former Soviet republic of Georgia, I went drinking with members of the Eliava Insitute during a blackout. There were long beards, soulful songs, and a wine called Rkatsiteli. It was like a mixture of sherry and bootleg vodka fermented in bed pans, and it had the same effect on my nervous system as a massive dose of Paxil. A wine for depressives and for Russians, I decided, for people who value deadening oblivion over finely calibrated taste sensations. I am sure I was lingeringly disorientated for six months afterward. Even the tongue-twisting name had a subtle dread to it. When Gorbachev waged war on Russian alcoholism by ripping up vineyards, this was the grape he targeted. He failed.
Ten years on—that is, last week—I drank another Rkatsiteli at the New York home of Ketevan Ninua, an artist who was once married to Georgi Shengelaya, the noted Georgian movie director. Mr. Shengelaya, auteur of "The Death of Orpheus," is also one of the best wine-makers of the eastern province of Kakheti, which borders on Azerbaijan. His wine is called Nato Vachnadze, and it is nothing like most of the Georgian wine now available in America, which is just as well because Georgian wines are a bit of a joke for most American drinkers. It's the kind of wine you drink once a decade at Primorski in Brighton Beach after a gallon of vodka.
In reality, we don't know them. What we do know are cynical exports with lush names with more consonants than vowels; dense, sweet potages with pretty labels, wines mostly for Holy Communion and buffalo bourguignon. But Georgia has been making wine since the time of Tutenkhamen. Could we be wrong?
Nato Vachnadze was Mr. Shengelaya's mother, and was also the first diva of the Soviet silent movie era in the 1920s. A cult figure also of the Stalin years, she died in a plane crash in 1959. The wine is an homage to her, and by extension, perhaps, to Georgian women in general. It's not a bad thing to pay homage to, and sometimes I wish there were more women's faces on labels and more homages in general. Besides, naming a wine after your mother is certainly better than naming it something like "Saamo No. 30," as the Soviets usually did. The only problem for the Russian market would be if it became known as "Nato."
Buying Georgian Wine
It can be difficult to find good Georgian wines in the U.S.; if you find a store that stocks them, producers to look for include Shumi, Maisuradze, Kakhuri and Vinoterra.
A good Rkatsiteli that is available in the U.S. is the Tsinandali from Teliani Valley (it's 20% Mtsvane grape ). Usually sold for about $12, it's stocked at www.georgianwinehouse.com and is a straight-up classic Georgian white. The same producer also puts out an interesting Tsolikouri made from the grape of that name.
I went to Ketevan's home on West 71st Street during a violent December storm to meet her and her son George, who although only 22 and still at Connecticut College, is set to inherit the Kakheti vineyards of his father. In their kitchen we opened the last bottle of Nato Vachadze Rkatsiteli that George had on hand, while Ketevan showed me her nervous, delicate paintings and we talked about Mr. Shengelaya's films. (I later looked up his "Georgian Grapes" at IMDb, the online movie database, hoping it might be about the wine business, and found a single description: "First Georgian movie featuring nude female body. That's all.")
Soon, a scent of wood and resin came out of the bottle with Nato's opiatic face on its label. A dark yellow liquid was poured into the glasses, with no promise of the "lively" fruit and vividness that Westerners so boringly demand in their whites. Under the Soviet system these wines had to be aged in wood for three years, yielding a drink that is tannic, with some of the qualities of dry fino sherry. I didn't want to say it, but this actually made me feel relief.
"I've been told," George said, "that it's the opposite of American taste."
"In what way?"
"Well, it's not exactly fresh. Most people in a restaurant in New York would send it back if they didn't know it. They'd think they were being poisoned."
"Well," I said, "they are being poisoned much of the time."
"Yes, but not by us."
The Shengelaya reds are more conventionally pleasing, but not so the whites. The Rkatsiteli grape is highly acidic, thorny, difficult to manage, and it has to be picked late so that there is enough sugar to balance out its tartness. It yields Oloroso-like dessert wines (like the Alaznis Veli and the Saamo), and prickly whites—like this one, or the delicate Bodbe—that have a color of dark honey and a tinge of mustiness. As the Larousse Encyclopedia of Wine so tartly puts it, "white wines made this way are not at all to Western tastes, but Georgians themselves love them." Shorthand: "They're crap."
We drank on. Within two glasses I was tipsy, warmed from the inside. The Nato was a sly, comradely drink, and I suddenly imagined the elder Giorgi, who lives near his vineyards in the Kakheti province, standing behind me with a kind of uxorial satisfaction.
The better Georgian wines issue from another world, or at least from another age, and it's impressive how inflexibly indigenous they have remained. Of course, the usual Georgian wines in our American wine stores may also be indigenous, which only shows that authenticity and quality are far from the same thing. Perhaps it's just a matter of separating wheat from chaff, because these wines have immense pedigree, not to mention delightful weirdness on their side.
Consider the archaic wine-making techniques used. There is "the Irmeretian method," which involves vinifying the must with the skins in huge underground amphora akin to the "pithos" used by the Ancient Greeks. Another is the "Kakhetian method," in which the skins are left in contact with the wine for up to five months. This is what yields tawny white wines that are "not to Western tastes." It is viticulture in a time warp.
Clay vessels from Georgia called kvevi have been found with Rkatsiteli grape seeds dated to 3000 B.C. In the fourth century A.D., Saint Nino arrived from Cappadocia with a cross made of vine wood and fused (as scholars like to muse) Christianity and wine in the Georgian psyche. They drank their wine out of horns called kantsi, and I seem to remember seeing an ancient cameo of Bacchus in the Tblisi State Museum. But this pedigree hasn't saved Georgians from numerous scandals regarding the dubious authenticity of their present wine. In wine terms, Georgia is the Wild East.
In 2006 Russia imposed an embargo on Georgian wine, claiming that much of it was counterfeit or fraudulently labeled. Alas, much of it is. Wine blended with inferior or incorrectly identified varietals is still being shipped to the U.S. and Western Europe from Stalin's birthplace, Gori, and this makes the task of George Shngelaya the younger in finding a distributor for his rare, fragile Nato Vachnadze somewhat daunting.
"I do not," he said rather grandly, "want to be confused with the wine that is already here. The reality is that America doesn't even know anything about us. Almost nothing."
It's often the way with allies. But at least we could start buying better Georgian wines. If young George finds his importer I will happily drink a monthly Nato at Primorski's, after carefully explaining to the waiters what the name means. Women, wines and military alliances should not share the same names.
—Mr. Osborne is the author of "The Accidental Connoisseur: An Irreverent Journey Through the Wine World."
© The Wall Street Journal
Tagged: