- Posted on Thu, 04/30/2015 - 12:01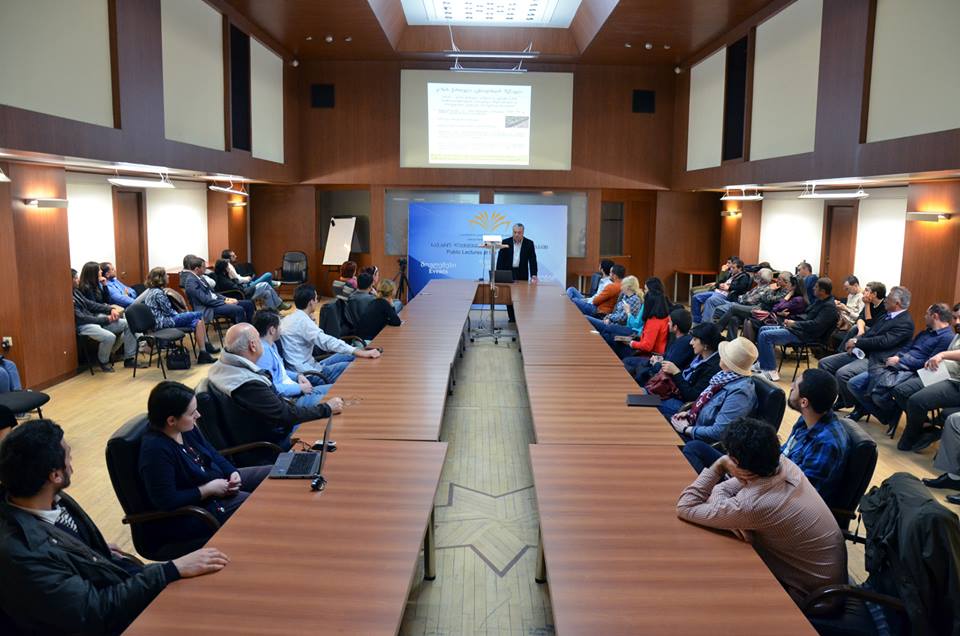 On April 28, at the Conference Hall of National Parliamentary Library Georgian Wine Club held a public lecture that was led by the head of the Viticulture Laboratory of the Institute of Viticulture and Oenology (Agricultural University of Georgia), Professor David Maghradze. The report was about the genesis of some varieties of vines, their synonymous and homonymous attitudes. The speaker reviewed diversity of the Georgian vine gene pool both aboriginal and newly bred varieties that are bred by the selectionists, their regional origin and quantitative statistics by the regions.
Studying Georgian gene pool aims to research Georgian vine variety and wild vine bio diversity with the help of modern methods of ampelography and molecular genetics. The main areas of research are description of vine parts, its molecular study, determination of maturity profiles and stages of phenological development, chemical and taxonomic description of the grain's skin, DNA analysis etc. In the DNA research process revealed that vine types spread in western and eastern Georgia represent two different genetic groups. The speaker discussed the ties of relationship among Georgian and Vasselay (France) grape varieties in detail and singled out the types (Phortoka, Tsulukidzis Tetra) that raises certain assumptions about ties.
Research and conservation of vine genetic resources were carried out within several large-scale projects in Georgia such as project of "Biodiversity International" – "Conservation and Sustainable Use of Grapevine Genetic Resources in the Caucasus and Northern Black Sea Region" (2003-2008), scientific research within the frames of ECO NET Project- "Molecular characterization of grapevine genetic" (2006-2007), scientific research implemented with the support of GrapeGen06 - "Management and Conservation of Grapevine Genetic Resources in Europe" (2008-2011) and the COST Action FA 1003 project "East-West Collaboration for Grapevine Diversity Exploration and Mobilization of Adaptive Traits for Breeding" (2010-1014 ).
The lecture discussed genetic links of the Georgian grapevine- Aleksandrouli, Mujuretuli, Dzveli Aleksandrouli; Rkatsiteli and Rkatsiteli Vardisperi (pink); Aladasturi of Kartli and Imereti. The speaker broadly spoke about the scientific methods that have enabled the study of these connections; he discussed pre research hypotheses on the origin of these varieties and talked about further research findings. Research has revealed that Mujuretuli is originated from Aleksandrouli in Racha area, and Dzveli Aleksandrouli is the homonymous variety of the latter. The research also revealed that Rkatsiteli Vardisperi (pink) originated from white-grape Rkatsiteli through bud mutation. As for Aladasturi, the variety with this name that is spread in eastern Georgia is not identical to the western Georgian variety, but it is table sort of grape Moldova, that is resistant to powdery mildew bred in Moldova in 1960ies. Omonimity of these variety names is conditioned by their physical resemblance.
© Georgian Wine Club, Wine Information Center
Tagged: